Reverse Osmosis Systems from Celtic Water Solutions
Providing an extensive range of reliable, highly specified reverse osmosis filter systems
Water often has unseen impurities in the form of bacteria, viruses, cysts, minerals, and other contaminants which make it unfit for drinking. Often the water is treated which removes most of these impurities, however, leaving a noticeable taste and odour to the tap water. While it is a common problem for most households, it doesn't make the most appealing way to quench your thirst.
With an increasing number of problems in drinking water reported in Ireland every year, it becomes essential to improve the water quality in your home. Here comes reverse osmosis water filtration technology.
What are reverse osmosis systems?
Reverse osmosis is a water purification process that removes unwanted contaminants, solid substances, large molecules and other unwanted particles from water by using pressure to push it through a specialized membrane. Installing a RO system delivers clean and filtered water straight from your kitchen tap. The semi-permeable membrane is designed to remove 99.9% of known contaminants from water. The additional filters remove odour and improve the taste of filtered water. One of the biggest advantages of a reverse osmosis water filter filtration system is its efficiency. It is the best way to ensure clean and filtered water at a fraction of the cost of bottled water.
The Most Technologically Advanced RO Systems
Senna 2.0 Reverse Osmosis
The Senna 2.0 Reverse Osmosis system is ideal for those wanting the highest quality water possible. This modern, stylish system will improve the taste of tea, coffee, diluted beverages, and everything cooked in water.
Stella Reverse Osmosis System
The Stella RO Unit is a superb quality 5 stage water filter system, offering the very best in water filtration, perfect for cooking and washing fruit, making coffee or tea, preparing feeding bottles and much, much more.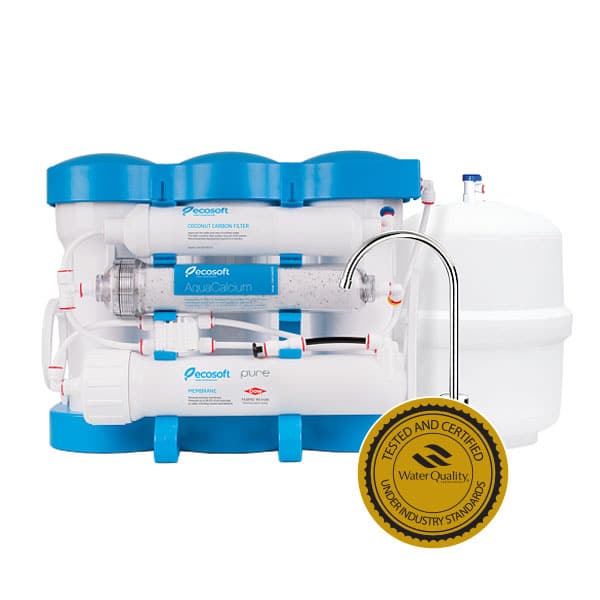 Ecosoft P'URE 6-Stage Reverse Osmosis
Ecosoft P'URE AquaCalcium is an excellent 6 stage reverse osmosis system that leaves no chance for bacterial contamination. The special AquaCalcium filters adds back calcium to water for that perfect tasting drinking water.
Ecosoft 6-Stage Reverse Osmosis
The Ecosoft 6 Stage reverse osmosis water filtration system removes 99.9% known contaminants from water. The remineralization filter enriches the water by adding back healthy minerals back to enhance taste.
Ecosoft 5-Stage Reverse Osmosis
The Ecosoft 5 Stage reverse osmosis water filter gives unlimited pure water on tap. The water passes through 5 stages of filtration which take out chlorine, fluoride, bacteria, cysts and trace organics from the water supply.
ZIP Countertop Reverse Osmosis
If you have little or no space under your kitchen sink, countertop reverse osmosis is for you! Elegant, efficient, eco-Friendly and simple to use, ZIP reverse osmosis system is the perfect solution for everyday water filtration needs.
How Do RO Systems Work?
At CWS we provide an extensive range of reliable, highly specified reverse osmosis water filter systems. Reverse Osmosis Systems are used most commonly to purify drinking water. It does this by removing salts and other impurities to result in improved colours, better taste and improved properties of the water. Reverse Osmosis systems employ a mixture of conventional cartridges and cross flow membranes with 3 to 5 filter cartridges combinations. Reverse Osmosis (RO) uses a semi permeable membrane. This semi permeable membrane allows the fluid that is being purified to pass through the membrane. As it does this, it rejects the contaminants that remain. It utilises a technology known as cross flow.
Cross flow allows the membrane to continually clean itself off. As fluid passes through the membrane, some of it continues downstream. This causes the rejected and unwanted particles to be pushed away from the membrane. RO requires a strong driving force to push the fluid through the membrane. Most reverse osmosis systems require a booster pump to force water through exceptionally small pore sizes in filter cartridges and membranes at high pressure. This ensures you only get pure drinking water.
What Do RO Filters Treat?
Reverse Osmosis systems successfully treat water with dissolved minerals and metals such as aluminium, arsenic, barium, chloride, chromium, copper, fluoride, magnesium, iron, lead, manganese, mercury, nitrate, selenium, silver, sulphate and zinc.
Effective with asbestos, many taste, colour and odour producing chemicals, particulates, total dissolved solids, turbidity and radium. When using appropriate active carbon pre filtering (commonly included with most RO systems), additional treatment can also be provided for such volatile contaminants as as benzene, MTBE, trichlorethylene, trihalomethanes (THMs) and radon.
Benefits
• Delicious, sparkling, clear drinking water
• Perfect quality water for babies milk formula
• Pristine, flavourful, coffee, tea and juices
• Crystalline, harder and clearer ice cubes
• Better tasting soups, sauces, and meals when prepared with R.O. water
• Ideal quality water for low sodium diets
• Convenient, fresh, clean water at your fingertips
• Unlimited pure water for your home or workplace
• Cost effective, the daily cost of bottled water will no longer be a concern
How much does it cost for a reverse osmosis system?
The price for a reverse osmosis filter depends on many factors such as brand, size, type of RO system and number of filtration stages. You can expect to pay anything around €300 – €600 for a good quality filtration system. In most cases, this price includes the charges of installing the unit.
Maintenance and Service of RO Systems
The filters in any reverse osmosis system need replacing each year. That's the only ongoing cost associated with an RO unit. A timely service ensures 365 x 24 x 7 supply of filtered water straight from your tap.
Our service team will contact you when your service falls due, so you never miss a service.
Why Choose Celtic Water Solutions for Reverse Osmosis Filtration Systems?
After many years selling RO Systems, we have listened to what our clients have relayed to us and what they felt was the most important thing in their eyes. We have obtained a clear and understandable message: Quality, Reliability and Efficiency. Our commitment is to continue supplying the best water filters, at the right price with an excellent service.
We are increasing our range of RO filters systems, to offer the ultimate selection of water filters to customers who are ready to invest in a kitchen appliance combining high water treatment performance, long durability and modern design.
Speak with one of our experts.