Water Softener Salt Tablets
Your water softener would last much longer if it's properly maintained. As ongoing maintenance, making sure your water softener never runs out of salt will ensure you will continue to enjoy soft water throughout the house.
Always use a high purity salt product specifically designed for use in water softeners. Fine cooking or table salt could interfere with the performance of the softener, whilst coarse sea or rock salt may contain impurities.
Celtic Water Solutions offers problem-free water softening salt that gives a great performance and is efficient in use. Hydrosoft is a very pure high-pressure compacted vacuum salt that dissolves evenly and gradually and is applicable to domestic and industrial installations.
It is produced by a special evaporation process, which forms tablets of salt from single crystals. Its flow-ability, high purity and resistance to 'mushing' make it the Number 1 salt for water softening.

Buy Now

Water Softener Salt Delivery
As part of our service, we can deliver water softener salt tablets directly to your home. We generally recommend Hydrosoft Tablets, as we believe that it is the best salt available. It comes in 25kg packing and we generally deliver 10 bags at a time to households but can deliver larger amounts if needed. Simply contact us to find out more about our delivery service.
We offer a pickup and collection service. Call us at 093 60705.
Hydrosoft Salt Tablets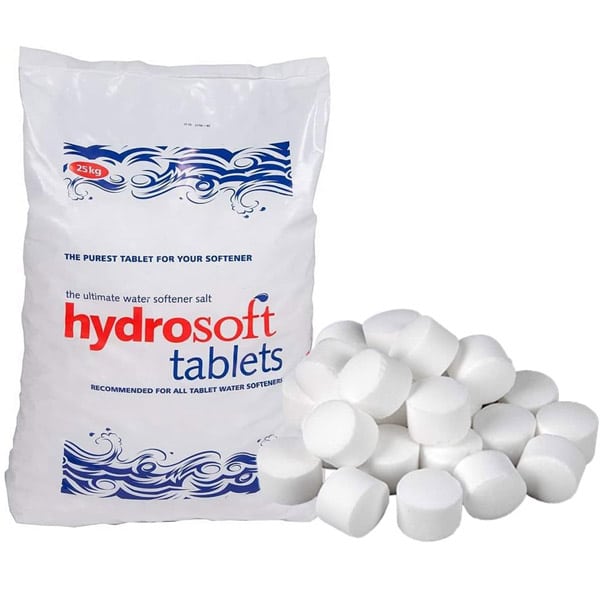 The market-leading water softening salt has been further enhanced to provide users with the ultimate product. Hydrosoft salt tablets are one of the most popular water softening salt on the market today. These smooth and pure salt tablets can be used in a wide range of models.
The square 'pillow' shaped tablets are made by the very latest compaction technology, compressed to minimise chipping. With no additives and made to food grade purity, this is the purest water softening salt tablet around. The high quality, heat-sealed plastic means that the product is totally protected even under the most demanding of storage conditions. Hydrosoft tablets can be used for the regeneration of domestic & commercial water softeners.
Benefits
Free of residual substances.
Excellent performance.
Highly efficient as it avoids the need for expensive maintenance.
Dissolves evenly and gradually.
Recommended by all leading water softener manufacturers.
Available to buy online on our website. FREE DELIVERY