Water Softeners from Celtic Water Solutions
Looking to buy a Water Softener? You have come to the right place.
Water hardness or lime in water is a common problem in Ireland especially in the counties Dublin, Meath, Kildare, Louth, Carlow, Laois, Wexford, Cork and Limerick. It can become a serious problem for homeowners who aren't aware of it.
Hard water contains a high amount of dissolved salts of calcium and magnesium, which cause thick white layer buildup on water appliances such as electric kettles, washing machines, dishwashers, and boilers. This results in poor performance and efficiency of appliances thereby leading to an increased operational cost. While hard water is not only harsh on your appliances, it is harmful to you and your family's health as well. Research has proven that hard water causes skin irritation, dry skin, hair fall, and dull hair.
At CWS we are committed to providing homeowners with the best quality water softeners available. We supply, install and service a wide range of water softening systems in various capacities to suit your individual needs. Working with your CWS water expert, you will be able to select a water softener system that will fit your exact water softening needs and budget.
We have a huge range of softeners, so you can be assured that no other household plumbed device provides the same savings or gets repaid as soon. Our products have proven to be one of the best energy-saving devices since their inception, keeping heating systems free from scale especially around the copper cylinder spiral coil heat transfer area of any heating system. Water softeners allow the removal of dissolved limestone from hard water, exchanging problem ions with harmless ions.
Benefits of Installing a Water Softening System
Long-Lasting Appliances
Increases the life expectancy of washing machines, kettles, showers, boilers etc.
Saves almost €600 a Year
Uses up to 75% less detergent, washing powder, and soap which saves you up to €600 per year.
Lower Water Heating Costs
Improved efficiency reduces energy consumption resulting in lower utility bills.
No Limescale on Plumbing Fixtures
Removes scale buildup caused by hard water & reduces scale-related plumbing problems.
Quick & Better Cleaning
Spend less time cleaning and scrubbing your kitchen sink, shower door and tiles.
Healthier & Softer Skin
Enjoy super smooth skin and reduce existing conditions such as dry skin & eczema.
Silky, Shiny & Strong Hair
Your shampoo will lather up easily leaving your hair soft, shiny and manageable.
Clothes are Softer & Look Cleaner
Prevent the adverse effects of hard water on your clothes while making them soft to the touch.
Choose Only the Best – CWS Clack Water Softener System in Ireland
While there are many companies out in the market who claim to offer their water softeners at lower prices, it is interesting to note that those products are of inferior quality and often Chinese made products that won't last long. Thus, you will have to search for a water softener all over again.
"Do It Once, Do it Right"
On the contrary, Clack Metered Water Softeners are built to last. Better than any other water softener in the market, Clack water softeners are the permanent solution to ensure 100% limescale removal. Once installed, you'll immediately witness the difference in your home water quality.
We, at Celtic Water Solutions, don't sell any other brand for a reason. Over our long journey spanning nearly 20 years, we have excelled in customer service and are known for the highest quality water softening systems. And Clack has been a front runner in our success.
If you are looking to install a water softener anywhere in Ireland, just contact Celtic Water Solutions. Our water treatment experts will be more than happy to assist you.
Our Most Popular Water Softening Solution for Homes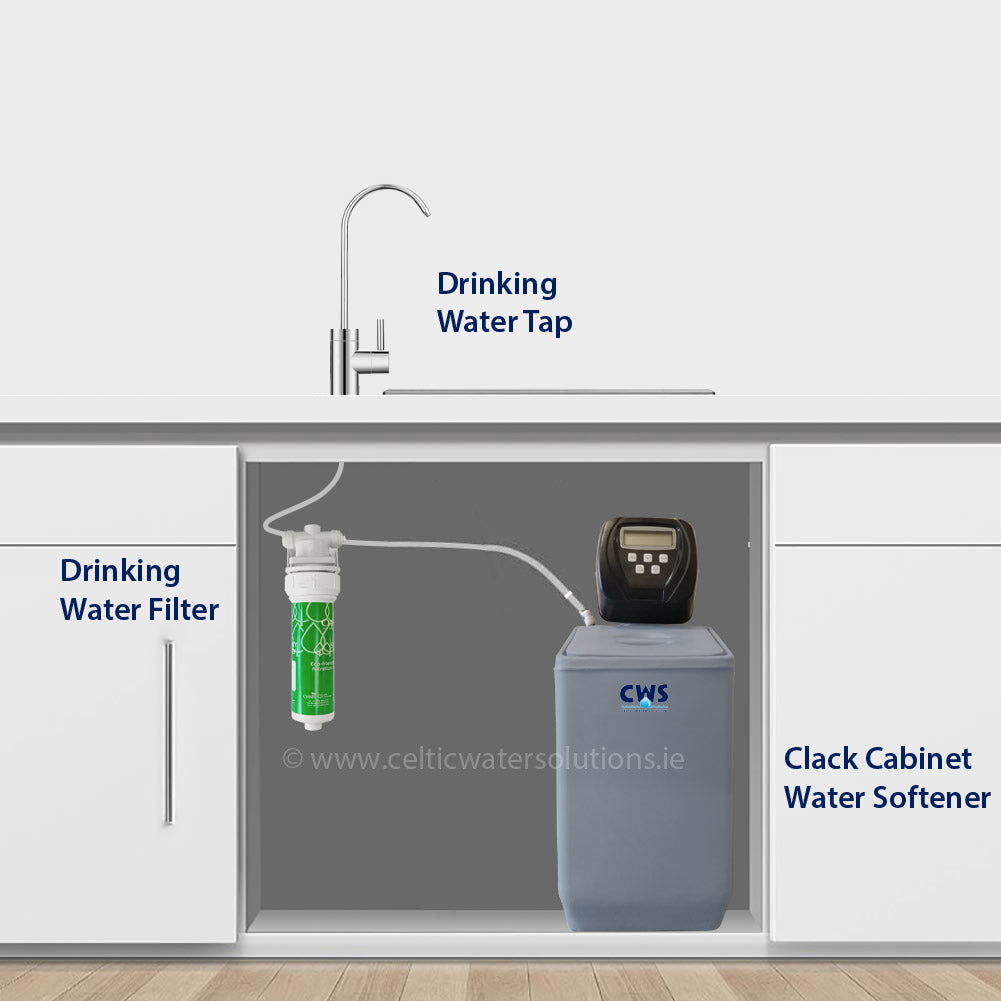 You Get
CWS Clack Cabinet Water Softener
FREE – Drinking Water Filter
FREE – Drinking Water Tap
FREE – 25kg of Regeneration Salt
35% More Efficiency
10 Year Parts Warranty
100% Limescale Removal
Limescale is one of the most common problems homeowners have to deal with. At Celtic Water Solutions, we strive to provide the most cost-effective solutions for Limescale, Iron and Manganese removal. We provide a range of solutions from complex industrial units to single domestic units & Limescale removal filters. For more information on our Limescale removal and water softeners, call 093 60705 today.
Protection From Hard Water
Protect against the damaging effects of hard water by using the Doulton Cleansoft limescale reduction cartridge. This will reduce hardness in drinking water and the unpleasant chalky taste that hard water can have. Cleansoft will improve limescale build up in kettles and the film which can form on the surface of hot drinks. For more information on limescale filters, call 093 60705 today.
Which water softener is right for me?
CWS Clack Cabinet Water Softener
CWS Clack 10×24 Water Softener
CWS Clack 10×44 Water Softener
CWS Clack 10×54 Water Softener
The size of a water softener for your home depends on the hardness levels in your area and the daily consumption of water.
The first step in finding the right system for you is to calculate your Daily Softening Requirement as it indicates the amount of hardness your softener will have to remove daily. The daily softening requirement is calculated using your water hardness and your water consumption.
Water Hardness:
It is the measure of the total amount of calcium and magnesium dissolved in water. Usually represented as mg/L (milligrams per litre), it is a critical metric to buy the right-sized equipment. Guessing this number could lead to an improperly sized system. If you are unsure of the water hardness in your area, it is better to get a water test done first.
Water Consumption:
Another factor to consider while calculating Daily Softening Requirement is the daily water consumption. One of the easiest ways to find it out is by checking your water meter and then use this information to figure out how much water you use in a day.
Daily Softening Requirement:
It is calculated by multiplying your daily water use by water hardness. Let's take an example.
If the water hardness in your is 400 mg/L and daily water usage is 2000 litres, the Daily Softening Requirement works out to be 800000 mg per day.
In most cases, CWS Clack Cabinet Water Softener are a popular choice as they can easily fit under a kitchen sink and are suitable for a family of 4 members. Our larger water softening systems can easily cope up with demanding households, due to their higher water softening capacity and greater efficiency.
Our water treatment experts will guide you through the options and suggest the best water softener based on your needs.

Speak with one of our experts to understand the right size for you.