Water Filters for Great Tasting Water
The water reaching out to your home gathers a lot of impurities making it unsafe for drinking. While the tap water in your home is treated with chlorine, it may not be always safe. That's why you need a water filter to protect your family and ensure they remain healthy.
Our prime goal is to provide you and your family with clean and safe drinking water. A simple water filter system installed in your kitchen will not only make your home water much safer but will also improve its taste.
Here at CWS, we offer a wide variety of filters and cartridges to remove chemicals and make your drinking water safe for consumption. We can supply single, dual, three-stage all the way through to multiple stage reverse osmosis filter systems. Celtic Water Solutions are experts in providing domestic and commercial water filters, we provide water solutions to a wide range of customers across Ireland. Each of our customers has a unique requirement, and our highly skilled team ensure you get the best products and service available.
Depending on your needs, we can supply you with a water filtration system that can effectively:
• Reduce the telltale tastes and odours present in water.
• Filter out dirt, sediments and other impurities from water
• Minimize the presence of hardness in water
Our products vary from under sink water filters to whole house water treatment systems. Our water filter systems not only promote healthy living by filtering tap water but also eliminate the inconvenience of buying bottled water. With many of our water filters, a unique tap is incorporated into your kitchen sink area. Thus our water filters are an excellent addition to your home at just a fraction of a cost.
Our Range of Water Filter Systems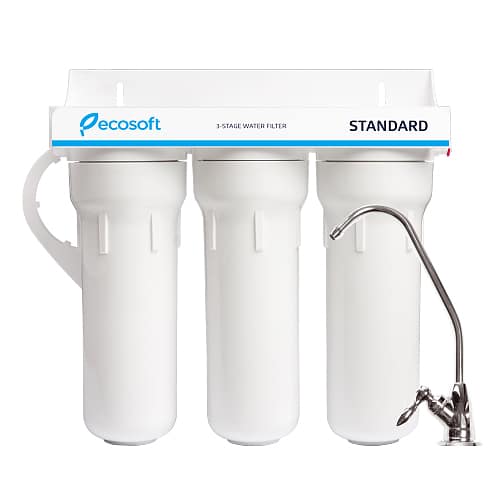 Ecosoft 3-Stage Water Filter
Triple filter Ecosoft Standard is an effective and affordable solution for chlorine and sediment removal. The filter includes an assembly of three water treatment modules connected in series, compactly mounted under the kitchen sink. The water purification is carried out in 3 stages which allow for chlorine & hardness reduction and improve the taste of the water.
This simple yet powerful water filter is designed for use on all potable water supplies and an excellent choice for most homes. Triple filter Ecosoft Standard is designed for a family of 3-4 people. The filter combines high quality and low cost of water treatment.
FT-Line 3 Water Filter
The FT-Line 3 (3 Stage Water Filtration System) is versatile, economic, and advanced home filter system on the market today. Our useful FT-line systems will ensure you have a continuous supply of ultrafiltered, dechlorinated water. The FT Line 3 has been designed with the residential user in mind. It guarantees the maximum quality of your water. Its ultrafiltration membrane protects the water from viruses and bacteria. This high quality water filtration system provides an unlimited supply of clean and fresh tasting water, on demand, in a stylish and convenient system.
Doulton Water Filters
Doulton Water Filters have now been manufactured for over 185 years, at this time it was discovered that filtering water through a porous ceramic could stop people becoming sick from cholera and other water-borne diseases.
Doulton Filtadapt Counter-Top Water Filter
Filtadapt counter-top water filter unit is connected directly to a tap. Portability, easy installation, modern design, high quality and affordable price – that's what makes it unique and why you should have it! It's an excellent economical solution for your home kitchen, school accommodation, holiday home or office kitchen, where healthy filtered drinking water is needed.
Ecosoft Dewberry Water Filter Jug
The minimalist design of the Ecosoft Dewberry filter jug makes it a refreshing update to any kitchen. Not only does it quench your thirst, but it also blends well with your home décor. Now enjoy a cleaner and better-tasting water at an affordable price.
Ecosoft's excellent filtration technology makes Dewberry a beautiful yet powerful filtration jug.
Doulton TASTE Water Filter Bottles
Enjoy filtered and great tasting water wherever you go. No matter whether you're going to hit a gym or heading out for an active adventure, forget worrying about the quality of water. Just carry this compact and durable water bottle along and enjoy safe drinking water regardless of the water source.
Available to buy online in 3 stylish colours.

Pentair Everpure S-100 Water Filter
Everpure's exclusive precoat filtration technology combines Micro-Pure and a unique pleated filter membrane to trap particles as small as ½ micron. This highly engineered design offers the largest filtering surface area, longer filter life and consistent performance.
The S-100 reduces contaminants, yet retains vital minerals found naturally in water. So the water tastes crisp, clean and refreshing. Ideal for drinking and cooking purposes in your house or apartment.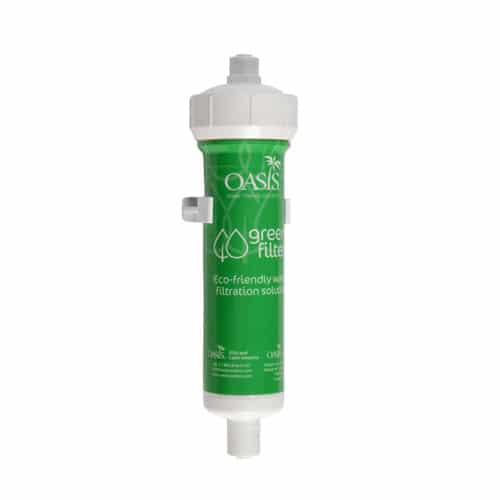 Eco-Friendly Green Water Filters
Oasis Green Filter is an eco-friendly, economical, and easy to use water filter offering superior filtration and deliciously clean water without the waste. A variety of filter cartridges are available to fit with this filter. This eco-friendly water filter uses in-line filter housing which is reusable and discarded filters are biodegradable or recyclable.
Compatible with almost all water appliances including coffee machines, refrigerators, drinking fountains, POU water coolers and under sink filtration systems.
Shower Filters
When Shower Filters are installed on your shower it removes chlorine and other chemical elements in such a way that your essential skin and hair proteins don't become whitewashed by the tap water.