Water Filters for Great Tasting Water
Everything you need for fresh, filtered water at your fingertips.
The water reaching out to your home gathers a lot of impurities making it unsafe for drinking. While the tap water in your home is treated with chlorine, it may not be always safe. A water filter is an economical & environment-friendly way to remove harmful contaminants such as chlorine, fluoride, bacteria, lead and improve the taste of tap water. Celtic Water Solutions are specialists in all types of water filtration for residential and business properties.
Depending on your needs, we can supply you with a water filtration system that will:
Reduce unpleasant odour and bad taste.
Remove harmful chemicals and unwanted substances.
Filter out dirt, sediments, and rust from water.
Eliminate contamination caused due to bacteria, viruses, and cysts.
Minimize the presence of hardness in water.
Home Water Filter – An Investment in Your Family's Health
Our prime goal is to provide you and your family with clean and safe drinking water. A simple water filter system installed in your kitchen will not only deliver great-tasting water but will also make your home water much safer.
We, at Celtic Water Solutions, believe good health begins with good water. But tap water can contain impurities that most of us as health-conscious, healthy people, don't necessarily want to drink and almost all of them can be filtered out.
By investing in the right water filtration system and maintaining it regularly, you can reduce contaminants from sediments and dirt to bacteria and microorganisms and everything in between, ensuring that the water in your home is better for your family's health.
Key Benefits of Using Filtered Water
Ensure safe drinking water for your family
No more chemicals such as chlorine, fluoride, lead, pesticides etc.
Better taste and smell
No need to worry about boil water notices
Enjoy tasty meals, soups, and better baking results
Saves inconvenience and money spent on buying bottled water
No plastic waste and good for the environment
Much More
Our Range of Water Filter Systems
Celtic Water Solutions are experts in providing domestic and commercial water filtration. We offer a wide selection of water filters and cartridges that make your drinking water safe for consumption.
Our products vary from simple single-stage filters to multi-stage reverse osmosis filter systems that are capable of removing up to 99.9% of known impurities from your water. Each of our customers has a unique requirement, and our highly skilled team ensure you get the best products and service available.
Reverse Osmosis Systems
RO systems deliver high-quality clean drinking water by eliminating most contaminants from water. Multiple stages of filtration remove even the finest of the impurities such as dirt, sediment, chlorine, fluoride, heavy metals, cryptosporidium, and cysts. You'll immediately notice a difference in the quality of water you're drinking.
One of the most technically advanced water filters, these systems are designed to fit under your kitchen sink delivering an unlimited supply of high-quality drinking water on demand. Ideal for a family with up to 4-6 members.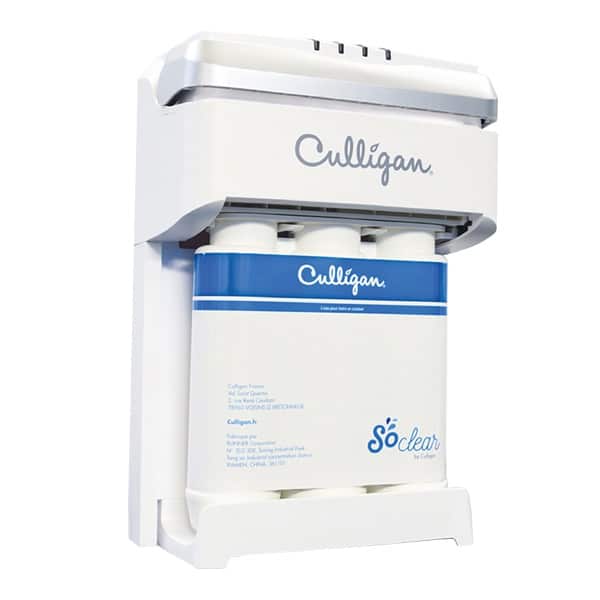 Culligan So Clear Water Filter
The Culligan So Clear Water Filter System is simple to use, technologically advanced and super-compact, bringing you better-tasting water, purified of unpleasant tastes and odours, directly from your kitchen tap. With triple-filtration technology, Culligan So Clear removes contaminants such as chlorine, organic compounds, turbidity, residues and suspended particles.
Suitable for most kitchen layouts and, thanks to its compact size, can be installed in small spaces and functions even without electricity.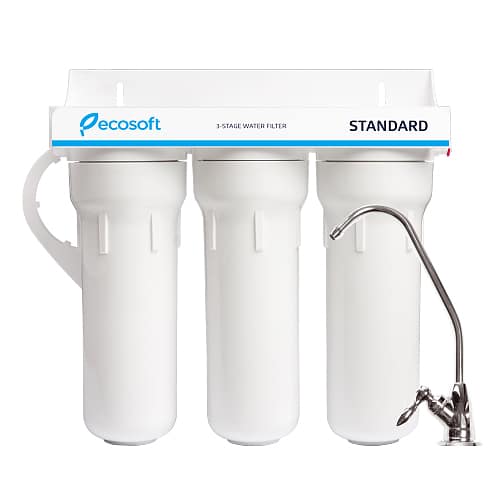 Ecosoft 3-Stage Water Filter
Ecosoft 3-Stage Standard water filter is an effective and affordable solution for chlorine and sediment removal. The filter includes an assembly of three water treatment modules connected in series, compactly mounted under the kitchen sink.
This simple yet powerful water filter is an excellent choice for most homes and is designed for a family of 4-6 people. Water purified using Ecosoft Standard filter can be used for drinking, cooking, watering flowers, as well as for vaporisation in household appliances (iron, steam boiler, air humidifier). Purified water does not lead to scale formation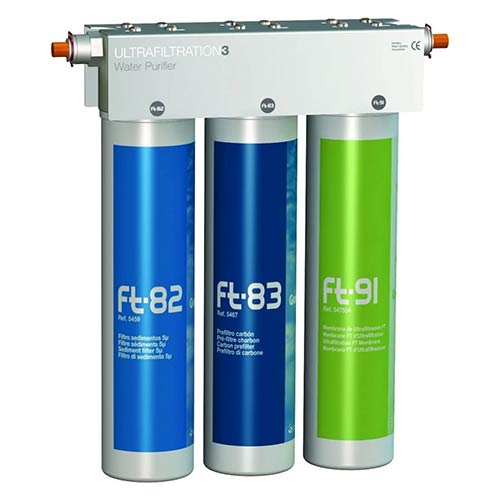 FT-Line 3 Water Filter
FT-Line 3 is a versatile, economic, and advanced domestic water filter system that can be installed under the kitchen sink without taking up much space.
It combines a 5-micron filter with a polypropylene filtration, activated carbon filtration and ultra-filtration membrane filter delivering great tasting water free from harmful chemicals such as chlorine, lead, cysts, and other contaminants.
This water filter system is, therefore, a great choice for anyone seeking a high quality and reliable unit, with easy maintenance and low running costs.
Doulton Water Filters
Doulton is a world leader in ceramic water filtration technology and has been manufacturing world-class water filters from the last 185 years.
Using 100% natural materials, Doulton water filters improve the look, odour and taste of tap water by filtering out common contaminants, bacteria, cysts and particles while keeping in all of the healthy minerals.
As a leading Doulton authorised distributor, we offer an extensive range of water filters and replacement cartridges at very affordable prices.
Water Filter Jugs
The minimalist design of the Ecosoft Dewberry filter jug makes it a refreshing update to any kitchen. Not only does it quench your thirst, but it also blends well with your home décor. Now enjoy a cleaner and better-tasting water at an affordable price.
Ecosoft's excellent filtration technology makes Dewberry a beautiful yet powerful filtration jug.

Pentair Everpure S-100 Water Filter
Everpure's exclusive precoat filtration technology combines Micro-Pure and a unique pleated filter membrane to trap particles as small as ½ micron. This highly engineered design offers the largest filtering surface area, longer filter life and consistent performance.
The S-100 reduces contaminants, yet retains vital minerals found naturally in water. So the water tastes crisp, clean and refreshing. Ideal for drinking and cooking purposes in your house or apartment.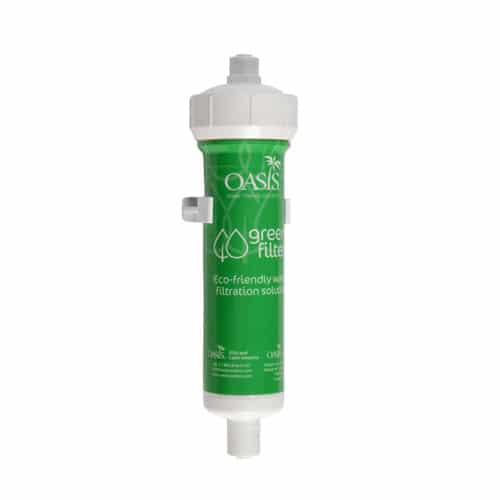 Eco-Friendly Green Water Filters
Oasis Green Filter is an eco-friendly, economical, and easy-to-use water filter offering superior filtration and deliciously clean water without the waste. A variety of filter cartridges are available to fit with this filter. This eco-friendly water filter uses in-line filter housing which is reusable and discarded filters are biodegradable or recyclable.
Compatible with almost all water appliances including coffee machines, refrigerators, drinking fountains, POU water coolers and under sink filtration systems.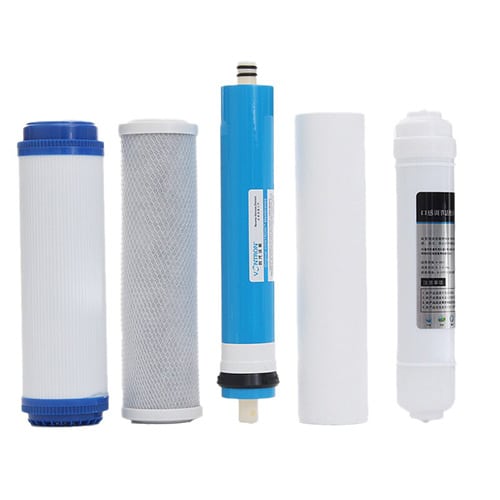 Replacement Filters
All water filter cartridges must be changed every 6-12 months to continue enjoying safe and great tasting water. Waiting too long to replace your water filter can clog filters and can even cause them to stop working altogether.
As a leading water filtration company in Ireland, we house an extensive range of replacement filters, spare parts, valves and relocation of system, and much more. Even if you are using a filtration system from another supplier, we can supply you with the replacement filters.