Oasis KaliX Mains Fed Water Cooler (Contactless)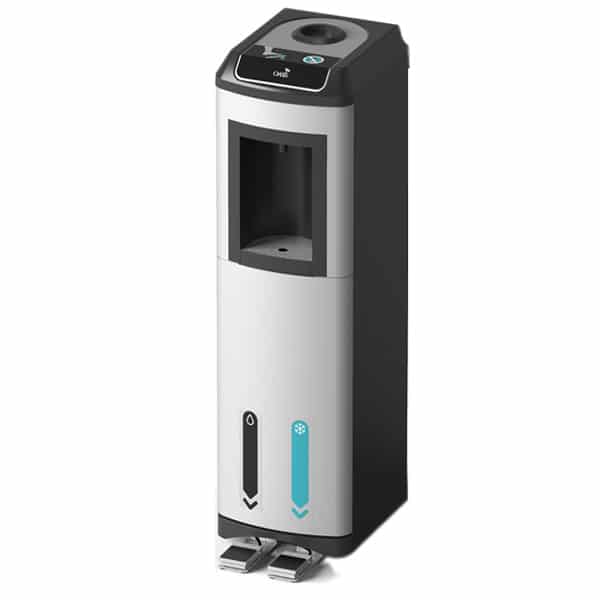 KaliX is one of our most popular water coolers – and it's no wonder why, once you've experienced its refreshing water. It comes with all the features a busy office can ask for – simple design, ease of use, and inexpensive.
KaliX is now even better with foot pedals. A contactless foot-controlled dispenser reduces the spread of germs, providing safe and hygienic drinking water all day long. This touch-free design means that zero hand contact is required to dispense the water, eliminating the risk of cross-contamination.
The sealed cooling system also provides a sanitary environment and reduces cleaning frequency. This machine is able to produce up to 240 cups of chilled water per hour thanks to Direct Chill technology, making it an ideal water appliance for high usage environments.
As the water enters from mains, it passes into a pressure vessel where it gets chilled and moves towards the point of dispense. Water is not stored anywhere, therefore, it reduces the risk of Legionella bacteria.
The stylish silver and black design looks brilliant in a variety of public environments.
Mechanical autodrain system is another great feature of KaliX water cooler that helps prevent overflowing drip trays. The drip tray can be conveniently emptied into a storage tank or drained into waste.
Benefits:
Foot-controlled dispense
Hands-free contactless design
Unlimited supply of drinking water at the demand
No need to worry about refilling it
Eliminates large water bottles & frees up storage space
Simple and easy to maintain
Saves you lot of money
Ideal for workplaces with high water consumption
Effortless servicing and sanitization
Features:
Soft-touch buttons with indicator light
Removable front panel for easy access to the filters
Large pace for filling sports bottles, carafes
Two-piece cooling tank for ease of service/sanitization
Internal cup dispenser
Removable self-draining drip tray
Also available with foot pedals (contactless)
Regulatory approvals: KIWA
Contactless Foot Operated Pedals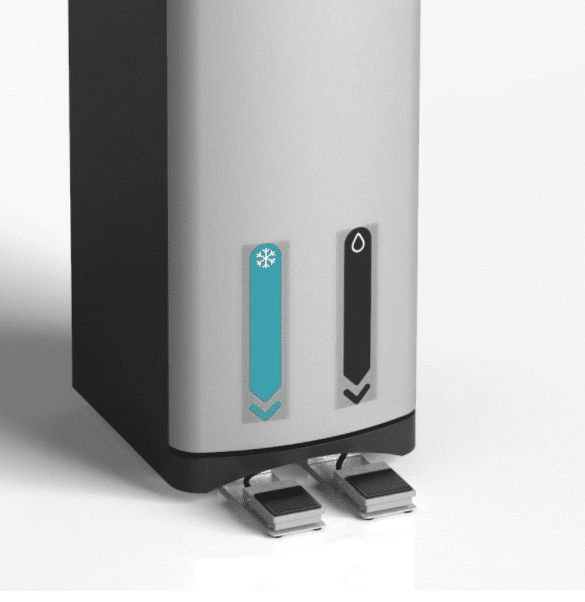 New foot-operated feature improves the hygiene of your office by allowing drinking water to be dispensed without having to handle dispensing taps. The newly designed foot pedals have been added to eliminate the risk of contamination via touch panels.
This retrofit foot-operated solution for your water cooler is ideal for locations with a high volume of users. Along with the foot pedal switch, this kit includes a blanking plate to cover the push buttons and labels to signal to the user that this is a foot-activated unit.
Available in two kits:
Single Kit: Cold Water only
Dual Kit: Cook & Cold water