Legionella Risk Assessment & Control
Eliminating the risk of Legionella bacteria in your water systems
Legionnaires' disease is a severe form of pneumonia caused by a bacterium known as Legionella pneumophila, most commonly found in natural aquatic environments such as rivers, lakes, and groundwater. However, there are certain circumstances in which man-made water systems can provide the ideal breeding ground for the bacteria.
Outbreaks of legionella have been associated with showerheads, sink faucets, cooling towers, decorative fountains, hot water tanks, evaporative condensers etc.
The illness usually starts with flu-like symptoms including fever, tiredness, headache, and muscle pains. This is followed by a dry cough and breathing difficulties that may progress to severe pneumonia.

Legal Requirement for Legionella Risk Assessment
As part of the law outlined in The Safety, Health, and Welfare at Work Act 2005 (S.I. No. 10 of 2005), measures are required to be in place to manage the risk of exposure to Legionella bacteria in the workplace. There are plenty of documented examples of organizations failing to comply with the relevant laws and industry regulations, which have resulted in tragic incidents that had serious financial and legal consequences.
In Ireland, under occupational Health and Safety legislation, there is a legal obligation on employers to carry out risk assessment in relation to legionella prevention and control in the workplace and where a risk is identified the appropriate control measures should be put into place and a risk management plan adopted.
Safety, Health and Welfare at Work Act 2005 (No.10 of 2005)
Safety, Health and Welfare at Work (Biological Agents) Regulations 2013 (S.I. No.572 of 2013.)
Safety, Health and Welfare at Work (General Application) Regulations 2007 (S.I. No.299 of 2007)
Safety, Health and Welfare at Work (Chemical Agents) Regulations, 2001 (S.I. No.619 of 2001)
A systematic risk management approach, as advocated in the UK Health and Safety Commission's 'Legionnaires' disease: the control of Legionella bacteria in water systems, Approved Code of Practice and Guidance (ACoP L8), should be adopted to prevent and control the risk of exposure to Legionella bacteria in water systems.

Legionella Testing & Sampling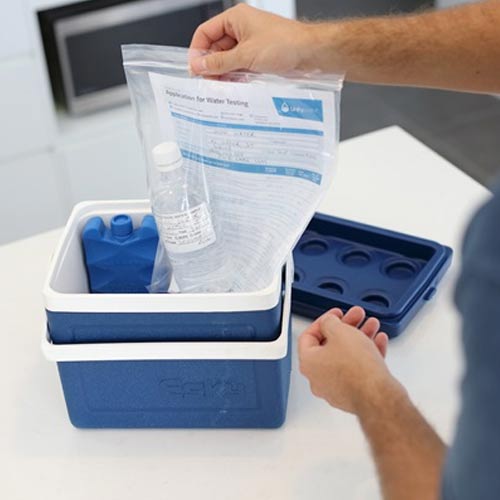 Water testing is the only way to determine whether Legionella is present in a water system. Because of this, and because of the risks of Legionella exposure, it's vital that water systems are regularly tested for the bacteria.
Facilities such as hotels, bars, restaurants, hairdressers, commercial buildings, dental practices, hospitals and care homes should routinely test for legionella bacteria to prevent its growth.
Periodic sampling and testing for the presence of legionella bacteria are necessary to show regulators and auditors that adequate control is being achieved.
It is recommended to test for legionella bacteria when:
The limits of a control regime, eg temperature or disinfectant concentrations, are not being consistently achieved.
There is a highly vulnerable group of people present on the premises: schools, care homes, hospitals.
A water system is suspected or identified in a case or outbreak of legionellosis
A water system is being treated with biocides and water is stored or distributed at lower temperatures
Celtic Water Solutions offers a comprehensive and affordable legionella water testing service to the retail, commercial and industrial sectors.
What to Expect from Legionella Risk Assessment
We, at Celtic Water Solutions, have extensive knowledge and expertise in mitigating legionella risk and have carried out risk assessments for a variety of industries across Ireland. No matter the type or size of your water systems, our risk assessors can tackle the work safely and ensure compliance with HPSC's & ACoP L8 guidelines.
Our comprehensive and compliant Legionella risk assessments include identification and evaluation of all potential sources of risk associated with Legionella within your building's water system.
We believe a thorough legionella risk assessment should include the following:
Testing of hot and cold water throughout the building at key points
Survey of any cold water storage tanks and hot water storage vessels
Set up and auditing of site-specific legionella logbooks
Flow and stagnation tests
Inspection for aerosol formation hazards
Supply of digital thermometers, records and basic training to your staff
A documented system overview, including pipework schematics and photographic evidence
Summary of findings and recommendations for review
Overall risk score for the premises and recommended review date
Water sampling and testing involve an engineer coming to collect samples from key points around your site which are then securely delivered to an INAB accredited lab for analysis.
Following the site visit, the risk assessment is typed up and issued to you electronically and/or in hardcopy depending on your requirements. The Legionella Risk Assessment Report will identify any risks as well as any remedial actions necessary to meet current regulations.
Based on the findings of the report, our qualified experts will recommend precautionary measures to reduce the overall risk of exposure to legionella bacteria. These may include management responsibility & training, improvement works, and routine inspection.
We will also suggest when the assessment needs to be reviewed. All remedial works need to be recorded in a logbook and followed up with periodic checks and maintenance.
Our recommendations are prioritized which means your money will be spent on high priority actions, thereby eliminating any potential risks going forward.
Why Choose Celtic Water Solutions for Legionella Risk Assessment?
Celtic Water Solutions brings together years of expertise to deliver excellent services to a variety of clients. We understand that no two businesses are the same and deliver a customized service tailored to your business needs. With nearly 2 decades of experience in the water treatment industry, we strive for excellence. Our long list of clients is a testimony to the fact that we deliver what we promise.
Our team of qualified Legionella risk assessors is fully trained in legionella control and has a background in water systems. Some of the key areas we focus on are:
Routine monthly temperature monitoring
Water hygiene remedial works
Legionella testing & microbiological analysis
Thermostatic mixing valve (TMV) servicing and testing
Water tanks cleaning & disinfection
Water safety audits
Our legionella risk management programme is designed in strict accordance with recommended practices and guidelines on the control of legionella from the HPSC's 'National Guidelines for the Control of Legionellosis in Ireland 2009' & UK HSE's Approved Code of Practice L8.
Kindly contact our office for more information on legionella risk management.