Tri-Flow Kitchen Taps
CWS126 Kitchen Triflow Tap
This high class chrome three way tap can connect to any type of undersink water filter and does away with the need for a standalone separate filter tap for your filtered water as you can use the triflow for your hot, cold and filtered water.
Available in Chrome, Satin and Matte Black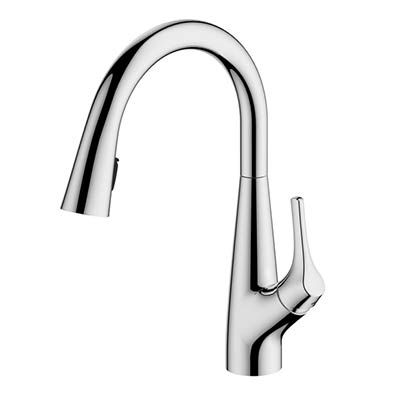 Rosetta Pull Out Mixer Tap
The Rosetta Mixer Tap is a beautiful and aesthetically pleasing tap that dispenses standard hot & cold water along with filtered water with a single control. Also includes added benefit of pull-out spray for easy cleaning.
Available in Chrome, Brushed Brass, Brushed Nickel and Matte Black.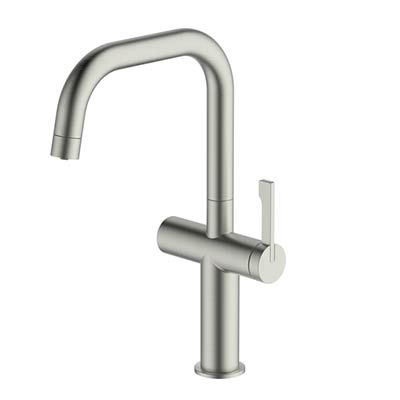 Mariner Mixer Tap
The minimal design of the Mariner Mixer Tap is perfect for anyone who likes the purity of form and simplicity as part of their modern kitchen. It comes it a subtly hidden press-control for filtered water on the left.
Available in Chrome, Brushed Nickel and Matte Black.
Galex Filter Mixer Tap
The Galex Filter tap is a professional style with a minimalist design. The single control dispenses standard hot & cold water along with great tasting drinking water. The detachable showerhead offers a 360-degree turn, perfect for a busy kitchen and food preparation.
Available in Chrome, Brushed Nickel and Matte Black.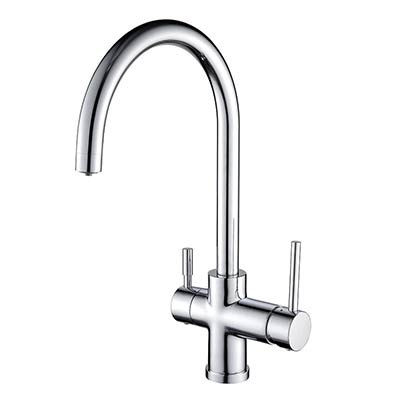 Neso Tri Flow Mixer Tap
Neso Tri-Flow kitchen mixer tap is the perfect tap for any modern kitchen with drinking water filter systems and easy to install. This allows you to have your hot/cold tap with filtered water all available from the same stylish mixer tap.
Available in Chrome finish.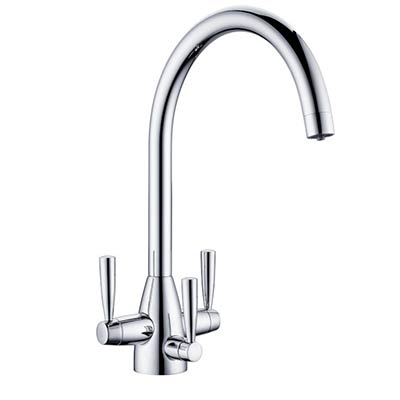 Eclipse Tri Spa Tap
Nothing says luxury quite like the sleek design and mesmerising features of the Eclipse triple lever mono kitchen mixer and cold filtered water tap. This gorgeous kitchen tap boasts a captivating contemporary design featuring 3 levers and a 360° swivel spout to ensure maximum movement.
Available in Chrome & Brushed Steel.
Sigma Metal-Free Three Way Tap
Sigma is a high quality 3-way kitchen tap that is free from metal. The tap uses a ceramic valve that keeps water out of contact with metal parts.
This tap is ideal for under sink water filter replacing your standalone filter tap with an elegant and modern looking faucet.
Available in shiny chrome finish.
Puricom Oregon Three Way Faucet
A very high quality 3-way tap with solid construction, weighty with a perfect finish.
An elegantly designed, easy functioning triflow tap which makes a bold statement in any modern kitchen. The tap supplies hot, cold and purified water with the purified water being delivered by an independent line to avoid mixing with unfiltered hot and cold water tap water.
Nor Tri-Flow Mixer Tap

Made to highest specifications, Nor tap is a high quality tri-flow tap with shiny chrome finish. Nor makes an ideal solution for 3 in 1 mixer tap by combining simple and elegant design with functionality.
Puricom ELIT Altea Tri-Flow Mixer Tap
The only 3-way shower mixer tap made of solid stainless steel on the market!
Elegant and unusual 3-way tap with a flexible head.
Inox Metal-Free Three Way Kitchen Tap
A high quality 3-way kitchen tap brushed chrome. Free from metal.
The tap has two handles making it easy to mix cold and hot from one side and deliver filtered water from the other side.