Filtered Water at its Best
No matter if you are looking for a beautiful tap to complement your granite countertop or just a tap for your filtered water, Celtic Water Solutions is here to help. We are one stop shop for reliable and aesthetically appealing taps for use in your home.
We, at Celtic Water Solutions, understand that the tap is one of the most used items in your kitchen. Therefore, we place a huge emphasis on selling products that stand the test of time and make your kitchen a wonderful place to cook. We offer a huge selection of taps sourced from leading brands such as Culligan, Puricom, Osmio, Doulton, Clearwater etc to ensure quality at best price. Our range of kitchen taps come in different shapes and styles so there is something for everyone.
The efficient taps from Celtic Water Solutions will help you save money and lower your wastage by reducing your water consumption. Combining premium design with ultimate practicality, our modern  taps makes kitchen tasks easier while leaving your more space on the worktop.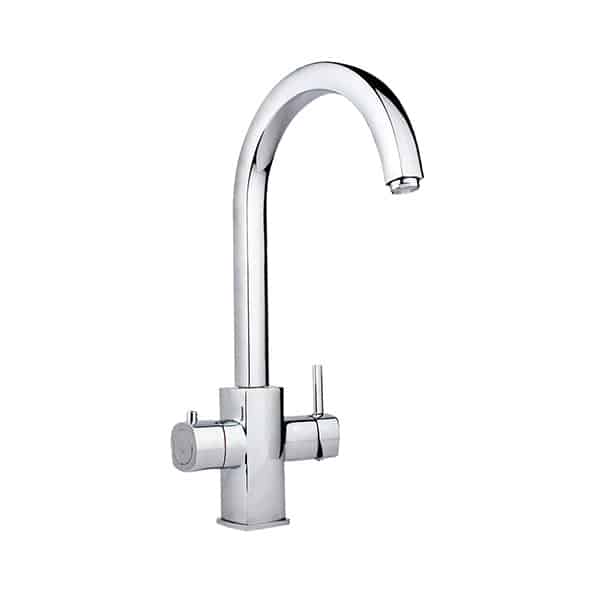 Boiling water taps provide an instant supply of mains cold, hot and boiling water straight from the spout. With the turn of a lever you can have piping hot water without the need to wait for a kettle to boil or a saucepan to warm up.
Tri-flow taps allow dispensing of hot, mains cold, and filtered water from the same sprout without allowing cross contamination. These taps can easily connect to any under sink water filter and eliminate the need for a separate mini faucet on your kitchen sink.
The stylish single lever taps can be placed on either side of the kitchen sink along with your main tap. These taps supply clean filtered water from under sink water filter and are more hygienic than other standard taps which use plastic parts.