Reverse Osmosis Replacement Taps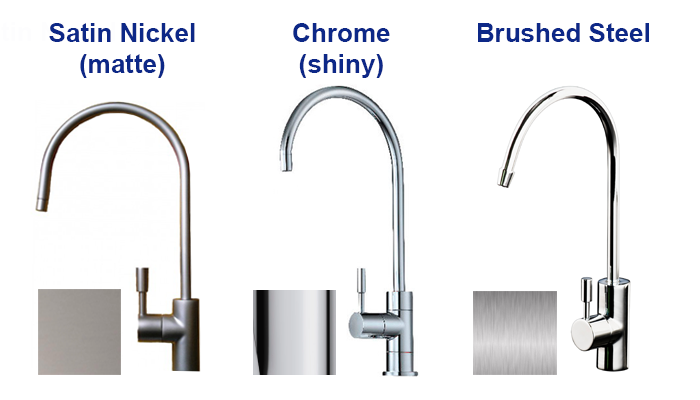 Single Chrome Tap
This tap is usually placed one side or the other of your main kitchen sink tap and is used to supply your safe, clean drinking water. This is the tap that comes with all our drinking units as standard. It is stronger and more hygienic than the standard taps which have plastic parts.
Three Way Taps
What could be more convenient than hot, cold & purified drinking water from a single tap? Three way taps are an ideal way of plumbing in a filtered water supply without having to install a small separate tap in the kitchen. Available in a large range of all colours to harmonise with your kitchen scheme. No need for filter jugs, and buying expensive bottled water becomes a thing of the past. See some of the of the three way taps available below.
Here at CWS we offer a wide variety of water filters and water filtration Systems to make your drinking water safe for consumption. Filters can be supplied in single, dual, three stage all the way through to five stage Reverse Osmosis filter systems. Celtic Water Solutions are experts in providing domestic and commercial water filters, we provide water solutions to a wide range of customers across Ireland. Each of our customers has a unique requirement, and our highly skilled team ensure you get the best water filter products and service available.

CWS126 Kitchen Triflow Tap
This high class chrome three way tap can connect to any type of undersink water filter and does away with the need for astandalone seperate filter tap for your filtered water as you can use the triflow for your hot, cold and filtered water.
Available colors: black (matte), chrome (shiny) & satin (matte)
CWS125 Three Way Kitchen Tap
Modern, robust 3-way tap for cold, hot and filtered water. Non glossy surface does not catch any visible fingerprints.
Available colors: black (matte), chrome (shiny) & satin (matte)

Gosford Three Way Tap
The Gosford three way taps offer a high quality product ideal for under sink filtration systems. Hot, cold and filtered water are all available from one, well designed tap.
The Gosford is crafted with two levers either side of the tap to operate the hot and cold water, to avail of filtered water simply move the cold lever backwards. The Gosford is available in both chrome and brushed nickel.
Available colors: chrome (shiny) & brushed nickel (matte)

Abode Atlas Safelock Three Way Tap
Abode brushed nickel three way tap allowing the flow of hot, cold and filtered water through the same spout, therefore maintaining the taps design balance and elegance.
Available colors: chrome (shiny) & brushed nickel (matte)
Puricom Oregon Three Way Faucet
A very high quality 3-way tap with solid construction, weighty with a perfect finish.
An elegantly designed, easy functioning triflow tap which makes a bold statement in any modern kitchen. The tap supplies hot, cold and purified water with the purified water being delivered by an independent line to avoid mixing with unfiltered hot and cold water tap water.
Puricom Elit Three Way Mixer Tap With A Shower Head
The only 3-way shower mixer tap made of solid stainless steel on the market!
Elegant and unusual 3-way tap with a flexible head.
Quality Inox Metal-Free Three Way Kitchen Tap
A high quality 3-way kitchen tap brushed chrome. Free from metal.
The tap has two handles making it easy to mix cold and hot from one side and deliver filtered water from the other side.