Compact and Salt Free Water Softeners
Can't fit regular water softener in your kitchen? We have a solution!
Hard water is a common problem in most homes in Ireland. Water in Dublin and surrounding areas is very hard which can create problems in your home. From limescale buildup in water fixtures to breakdown of your appliances, hard water not only increases your bills but is also frustrating. While a water softener turns hard water into soft, there could be instances where a water softener may not be the right product to solve your hard water problem.
We, at Celtic Water Solutions, understand your problem and have come up with a unique solution. OneStop Plus™ is a perfect alternative to a conventional water softener designed to protect open circuit piping from limescale deposits. It can be installed directly before the equipment that needs treated water.
Say Goodbye to Limescale
OneStop Plus™ prevents limescale buildup on your appliances by manipulating the way hardness causing minerals behave in water.
Unlike a water softener which uses resin to remove hardness from water, OneStop Plus™ anti-scale system reacts with scale molecules to turn them into harmless TAC crystals. The result is that these soft crystals remain suspended in the water but do not attach to the surface and simply wash away.
The new anti-scale system does not require salt or regeneration (backwash). Consequently, that leads to tremendous savings.
Benefits of OneStop Plus™ Anti-Scale System
Long Lasting Appliances
Enhance the life expectancy of your washing machines, boilers, electric kettles, dishwashers, and more by preventing scale deposits.
SAVE. SAVE. SAVE.
Save up to €1000 in yearly savings with increased appliance efficiency, performance, and lower maintenance costs.
No Salt, Power, or Backwash Needed
Generate extra savings in terms of power, salt, and water when you install this innovative anti-scale system.
Reduces Heavy Metals
Unlike water softeners, OneStop Plus™ system reduces heavy metals such as copper, lead, mercury, zinc, and cadmium.
Compact Space
If you have little space under your kitchen sink, this anti-scaling system would be a perfect addition to your kitchen.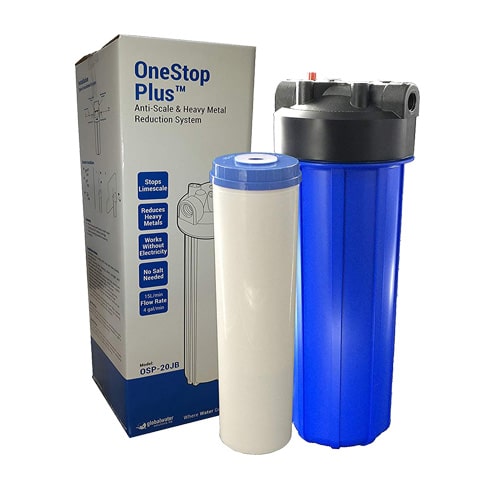 Water Chemistry Limits
pH: 6.5 – 8.5
Max Hardness: 1300 mg/L
Temperature: 5°C – 60°C
Chlorine: <3 mg/L
Iron: <0.3 mg/L
Manganese: <0.05 mg/L
Oil & Phosphates: Pre-Treatment required if present
Hydrogen Sulphide: Pre-Treatment required if present
Flow: 3L/Min for Maximum efficiency.
Why Choose Celtic Water Solutions to Remove Limescale from Home?
As the leading water treating company in Ireland, we come across different customers who have unique needs that require customized solution. With nearly 2 decades of experience under our belt, we truly understand the needs of your home and are committed to deliver Quality, Reliability, and Efficiency.
Celtic Water Solutions is a well established name in the water treatment industry and we've been selling best quality water softeners in Ireland for a very long time. Our team of water treatment experts are always on a hunt to find innovative water treatment products that can safely address the water quality issues at best price.
Not sure what equipment you need. Speak with one of our experts.