Ultra Classic Reverse Osmosis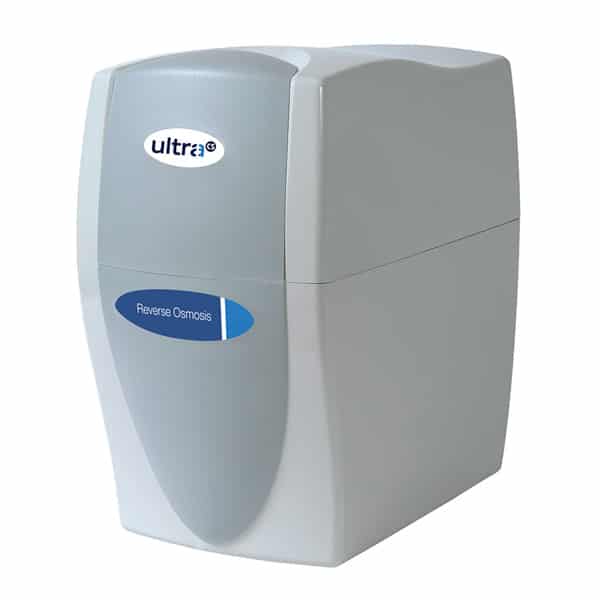 Ultra Classic is a modern kitchen appliance that has been carefully designed with health consciousness, efficiency, high performance and convenience in mind. The stylish design of the Ultra Classic reverse osmosis system was created to fit elegantly in any kitchen environment. The clean lines and graceful contours of the bright white cabinet make it one of the most attractive reverse osmosis water systems available.
Thanks to its innovative water-on-water tank, it takes up a little space under the kitchen sink. The savings compared to buying bottled water are significant with guaranteed high-quality filtration.
With Ultra Classic system, there is plenty of clean and great tasting water always handy for drinking, cooking, baby food, and other purposes.
Effective in Removal of:
Chlorine
Fluoride
Cryptosporidium
Heavy metals like Lead and Arsenic
Pesticides, Nitrates, Sulfates, Detergents and 99.9% known contaminants of water
How does it Work?
Stage 1
5 Micron Sediment Filter: Removes dirt, rust, sand particles. suspended matter, and insoluble chemical compounds larger than 5 microns.
Stage 2
Granular Activated Carbon Filter: Takes out 99% of the chlorine, pesticides, and herbicides. It provides enhanced reduction of taste, odour and colour.
Stage 3
Carbon cartridge (STO), made of briquetted carbon. Eliminates up to 99% of free chlorine from water and purifies water from inorganic impurities.
Stage 4
Reverse Osmosis Membrane: A thin film composite (TFC) high-quality membrane that removes the bacteria, salts, lead, copper, barium, chromium, mercury, sodium, fluoride, nitrite, nitrate and selenium.
Stage 5
Post Carbon Filter: This carbon post filter removes objectionable tastes and odours to enhance the quality of your drinking water.
This system can be installed under your kitchen sink which makes it an ideal choice for most homes.  As it requires only single annual maintenance, it is the cheapest way to get fresh and tasty bottled like drinking water right from your tap.
Specifications
Membrane capacity – 175 LPD
Built-in 5.5L NSF Standards water storage tank
Safety Approval: TUV (EN60950) & CE
Exclusive CS filters with the highest safety and easy maintenance
Flow restrictor, stainless steel check valve
Automatic shut-off valve
Nordic, minimalist design with an attractive faucet
Feed water connector and deliver valve
Drain saddle valve
Leak sensor to warn of a water leak
¼" tubing for system connection, and 3/8" tubing into the faucet
Completely assembled & water leaking testing
100% factory tested and sterilized, ready for installation