Pressure Vessels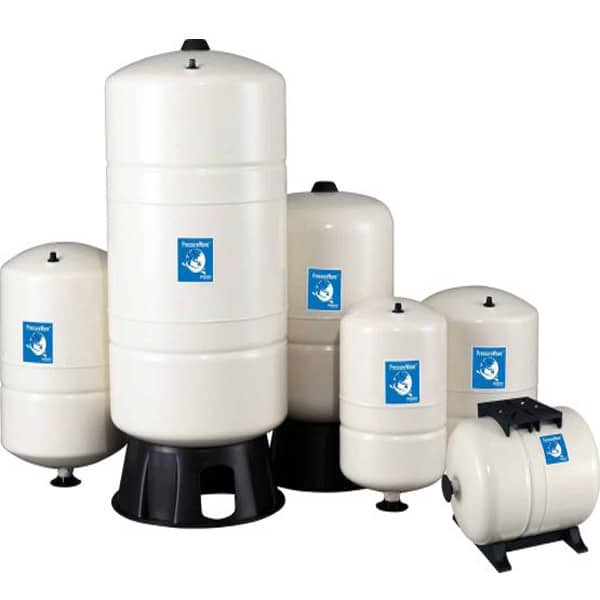 A borehole or private water system is made up of many different components and controls. Depending upon the requirements and application there may be different options or sizes of pressure vessel available.
A pressure vessel is used to provide a reserve of pressurized water to limit the number of starts of and wear on the pump. The pressure switch will cut in when the pressure drops below a pre-set point starting the pump and cuts out when the required pressure is achieved.
Pressure tanks can be coupled to water pumps (surface or submersible) to provide a self-contained pressurized supply for direct connection into an existing piped system without the need for header tanks or float switches.
Celtic Water Solutions supplies and installs only quality pressure vessels and switches. We use pressure tanks that are long-life vessels ideally suited for controlling the pressure in domestic, as well as industrial applications, cold-water (drinking-water) systems.
All our pressure equipment is sourced from top brands, ensuring that we deliver only the best in quality and reliability.

Enquire Price

Applications of Pressure Vessels
Booster systems
Well systems
Irrigation systems
Thermal expansion
Hydronic heating expansion
Hydraulic hammer arresting
Clean water backwash for Ultra-Filtration systems
Benefits of Pressure Tanks
Maintenance Free
Diaphragm design
Virgin polypropylene liner
Condensation reducing design
Two-part polyurethane, epoxy primed paint finish
Patented stainless steel water connection
Leak-free, O-ring sealed air valve cap
Our Range of Pressure Vessels
Our pressure vessels come in a variety of sizes and specifications to suit your specific needs. These include vertical diaphragm tanks, horizontal diaphragm tanks, cylindrical diaphragm tanks, rectangular diaphragm tanks, multi-compartmental pressure vessels.
PressureWave Series
The PressureWave™ series are superior quality, versatile pressure tanks.  Models are available from 2 to 150 litres, with a maximum working pressure of 10 bar, making them ideal for a range of applications.
The PressureWave™ Pressure Vessel Series is constructed of a virgin polypropylene liner combined with an FDA approved high-grade butyl diaphragm. This is held against the wall of the tank with a steel clench ring.
The brass air valve, sealed by a threaded o-ring valve cap, prevents air leaks. Water enters the tank through a patented stainless steel water connection. The diaphragm and liner are both reinforced in specific wear areas for longer life.
All internal parts including the air valve are rounded to prevent piercing of the diaphragm in extreme conditions. The water connection uniquely provides a dual water/air seal ensuring a complete leak free and maintenance-free pressure vessel.
PressureWave Series 4 Litre Inline Pressure Vessel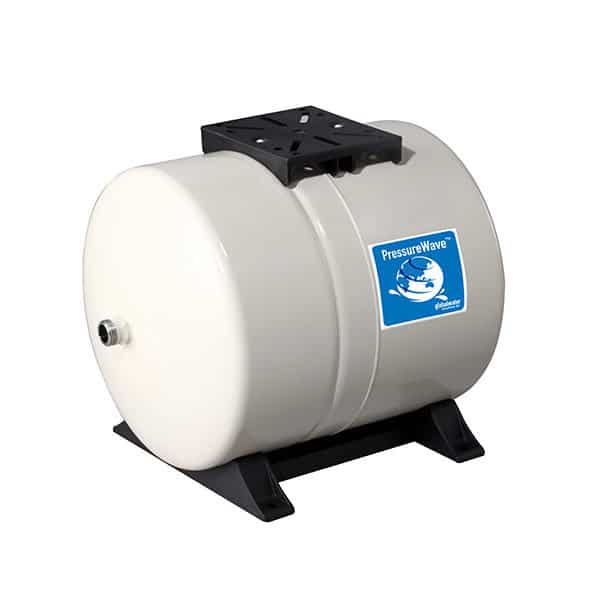 PressureWave Series 20 Litre Horizontal Pressure Vessel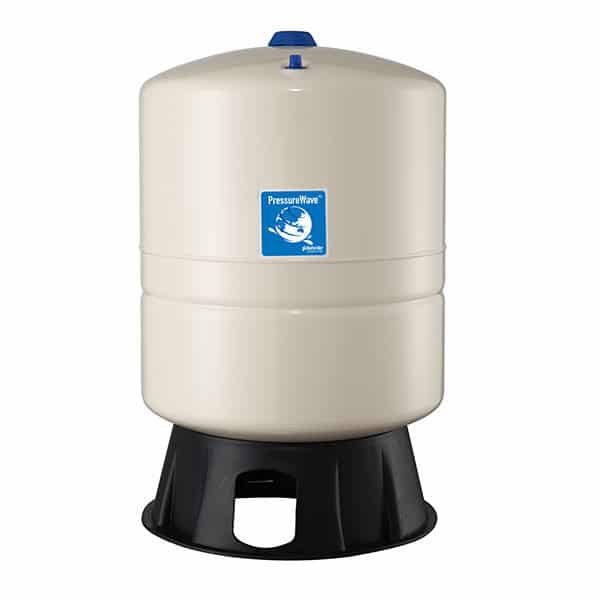 PressureWave Series 60 Litre Vertical Pressure Vessel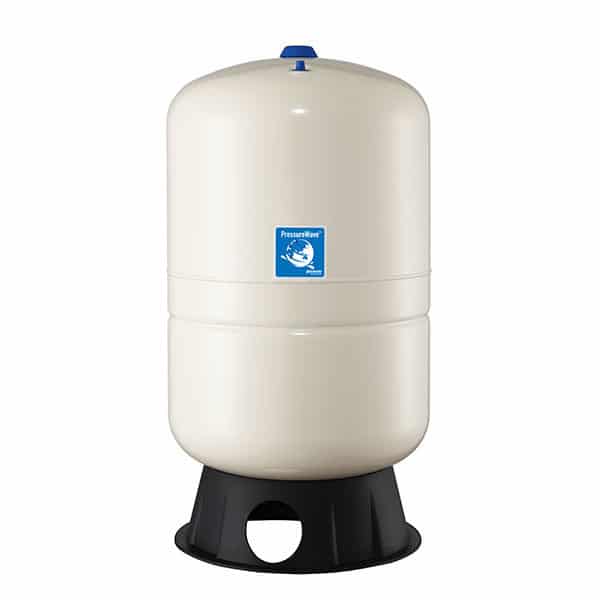 PressureWave Series 100 Litre Vertical Pressure Vessel
PressureWave Series 150 Litre Vertical Pressure Vessel
Challenger Series
The Challenger™ range of carbon steel tanks is available from 60 to 450 litres, with a maximum pressure of 10 or 8.6 bar (for tanks sold to NPT markets).  Ideally suited to a wide range of applications.
Efficient and cost-effective, Challenger™ tanks are designed with a patented controlled action CAD-2 diaphragm assembly. They feature chlorine resistant 100% butyl diaphragm with a precision moulded copolymer polypropylene liner for superior air and water separation.
The CAD-2 diaphragm assembly is clenched together with a positive lock internal clench ring which contains drawdown water in a pre-charged air atmosphere, thus producing separation between the diaphragm and tank wall.
This "air buffer" design means fewer problems with condensation. Constructed with an FDA approved high grade butyl, the diaphragm assembly seals water in a true non-corrosive chamber.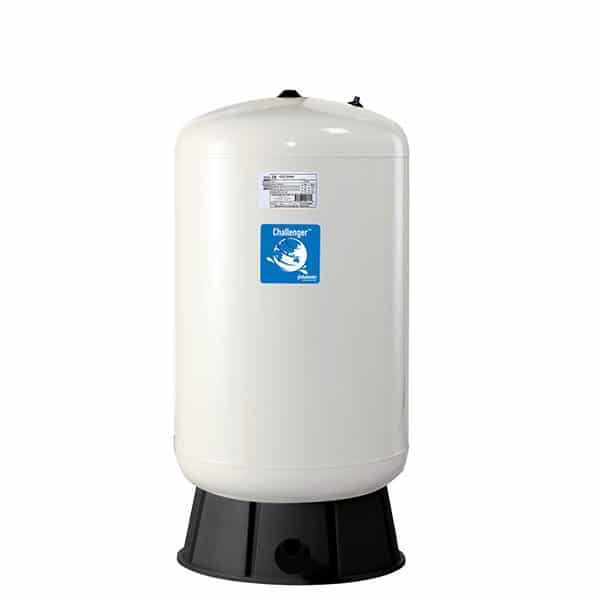 Challenger Series 200 Litre Vertical Pressure Vessel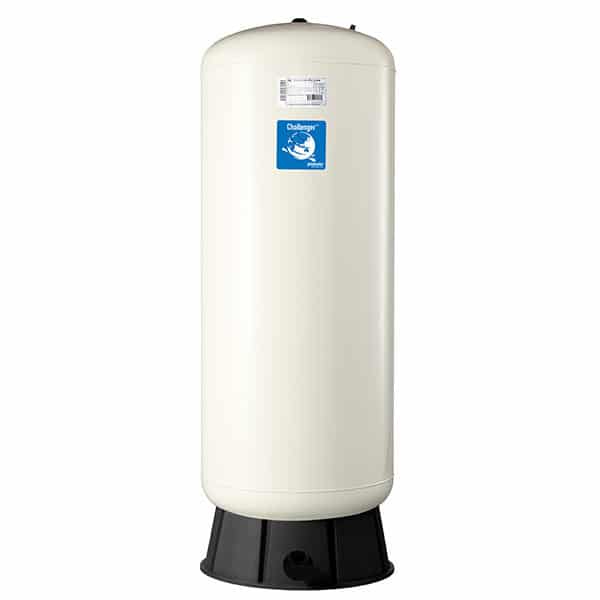 Challenger Series 300 Litre Vertical Pressure Vessel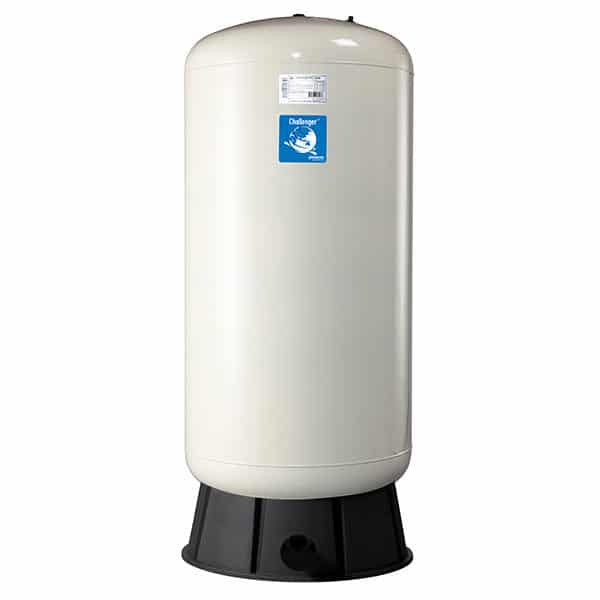 Challenger Series 450 Litre Vertical Pressure Vessel