Oasis Versafiller Bottle Filler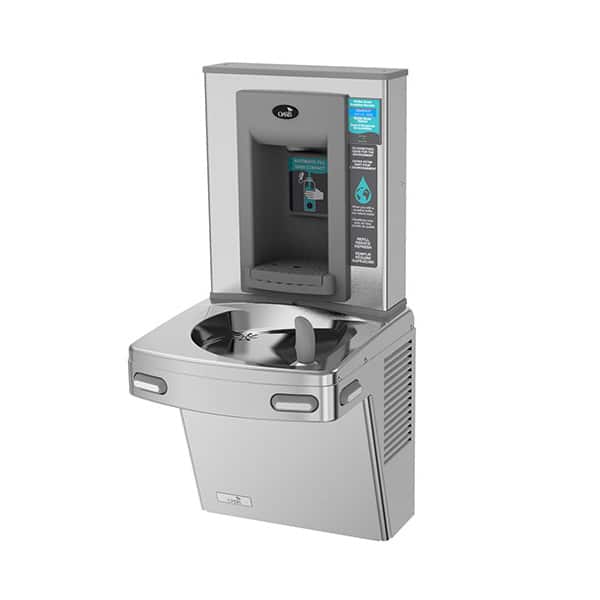 Oasis Versafiller combines the bottle filler and refrigerated drinking water fountain. This unit has a high cooling capacity and is ideal for refilling bottles and cups, while the drinking fountain is great for on-the-go hydration.
The unique counter feature counts the bottles refilled and displays the number of plastic bottles which have been saved from landfill. This model utilizes independent activation; the lower unit offers push pads on the front and sides, while the bottle filler is sensor-activated. Multifunctional, practical, and sturdy.
The bottle filler has an electronic sensor that activates the water flow for a smooth, hands-free dispense, ensuring optimal hygiene. The sensor ensures ultimate hygiene levels by avoiding user contamination and allows the easy filling of water bottles. It also has a 30 second shut off timer to save water and electricity.
The drinking fountain is activated via the manual push pads on the front and sides of the basin. The shallow basin is designed to eliminate splashing and standing water, ensuring for smooth delivery of water. The bubbler valve has a flexible guard that is easy to drink from, and it has also been designed to be eco-friendly by reducing wastewater by 50%.
The components contain Freshield, which provides the highest standards of cleanliness. Freshield utilizes a silver-based antimicrobial compound that reduces the growth of micro-organisms and mildew to protect the surfaces from discolouration, odours, and degradation. It also inhibits the growth of bacteria, fungus, mould, and mildew ensuring optimal hygiene.
Suitable for public buildings, gymnasiums, sports complexes, hospitals, schools, and offices.

Enquire Price

Benefits of Oasis Versafiller
Eco-friendly & reduces your carbon footprint
Space-saving and stylish design
Cost-efficient
Efficient and easily accessible
High capacity
Low maintenance
Eliminates large water bottles & frees up storage space
Simple and easy to maintain
Ideal for workplaces with high water consumption
Features
Dispenses 60 litres of chilled water per hour
Electronic activation bottle filler combined with mechanical activation drinking fountain
Waterways are lead-free in materials and construction
Large Alcove to fit most sports bottles
Built-in 100 micron strainer stops particles before they enter the waterway
Built-in drain for wastewater
Freshield protected for optimal hygiene
Antimicrobial flexible bubbler guard
Stainless steel top
External stream height adjustment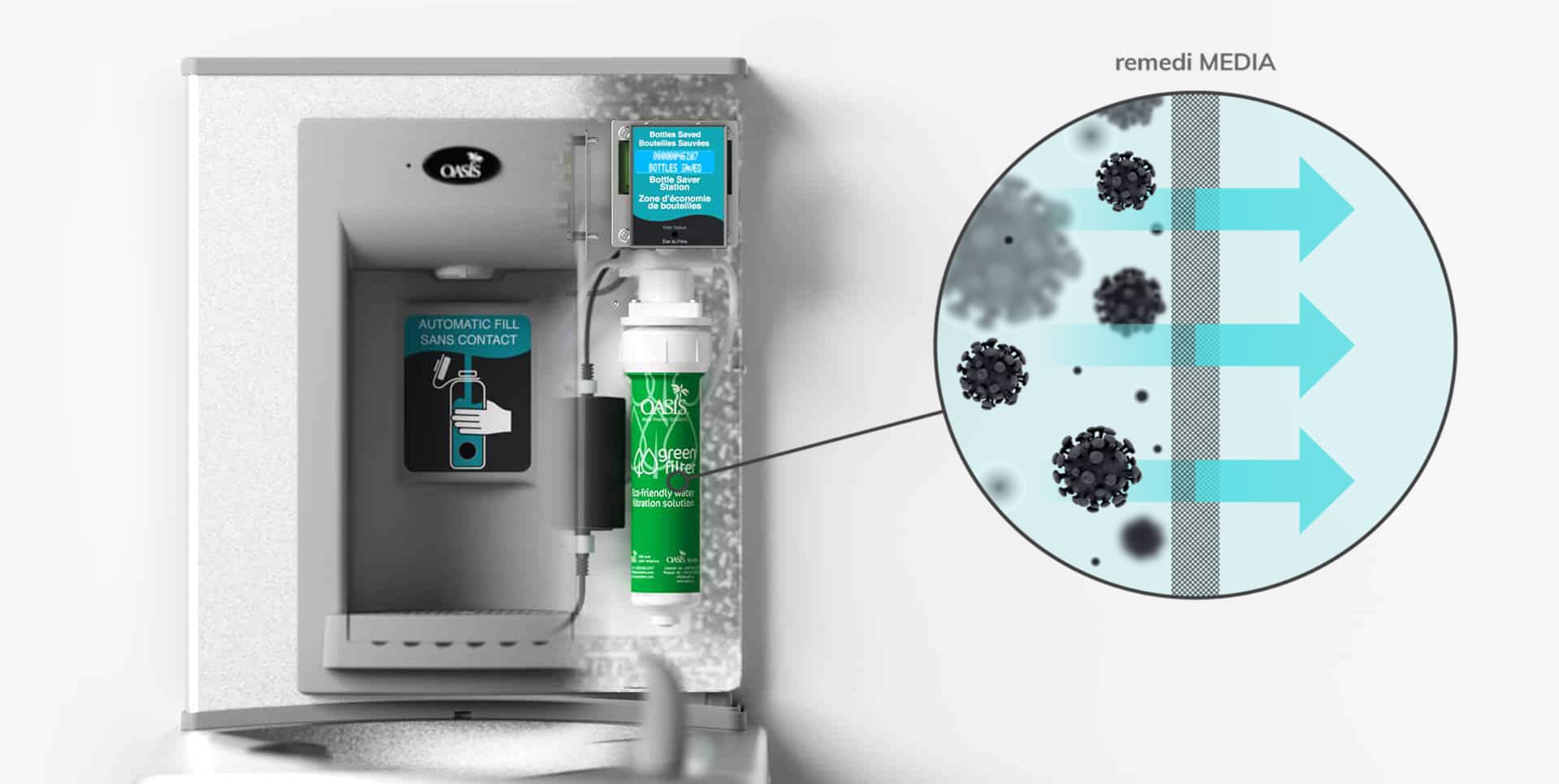 QUASAR Protection
Versafiller is also available with QUASAR which uses UV technology to eliminate viruses, bacteria, and other pathogens in the water. QUASAR treats the water right at the point of dispense where UV rays are directed at the water to eliminate pathogens in seconds.
The UV light is safe and mercury-free, providing a physical treatment of water without the use of harmful chemicals or altering taste.

Enquire Price