Zero Installation Purifier (ZIP RO)
While under sink reverse osmosis systems are highly popular in Ireland, it may not suit everyone's home. If you have little space under your kitchen sink, don't worry. Celtic Water Solutions has answer to your problem. Rather than settling for an inferior water filtration system, go for a countertop reverse osmosis system.
Puricom ZIP Reverse Osmosis is a truly innovative countertop reverse osmosis system that saves you the hassle of installing a bulky filtration system with separate drinking water tap and piping.
Enjoy These Benefits
No Plumbing required, no water connections!
Provides high quality water
Can be easily transferred & used for different places
Ideal for home or office kitchen, holiday house, student accommodation or outdoors!
Low maintenance cost
Compact innovative design & concept
No water waste, all water can be used!
The compact design combined with vibrant colors will suit any modern kitchen. Not only does it add convenience and style, it delivers exceptional performance as well. It comes with 4 stages of advanced filtration that can effectively remove 99% contaminants from water including fluoride, chlorine, heavy metals, bad taste and much more. The alkaline post filter adds a small amount of healthy minerals back to the water making it taste even good.
This sleek and stylish reverse osmosis unit demands very little maintenance and the filters can be replaced easily without any effort. The ZIP RO system will notify you to replace the filters by blinking red light after every 12 months.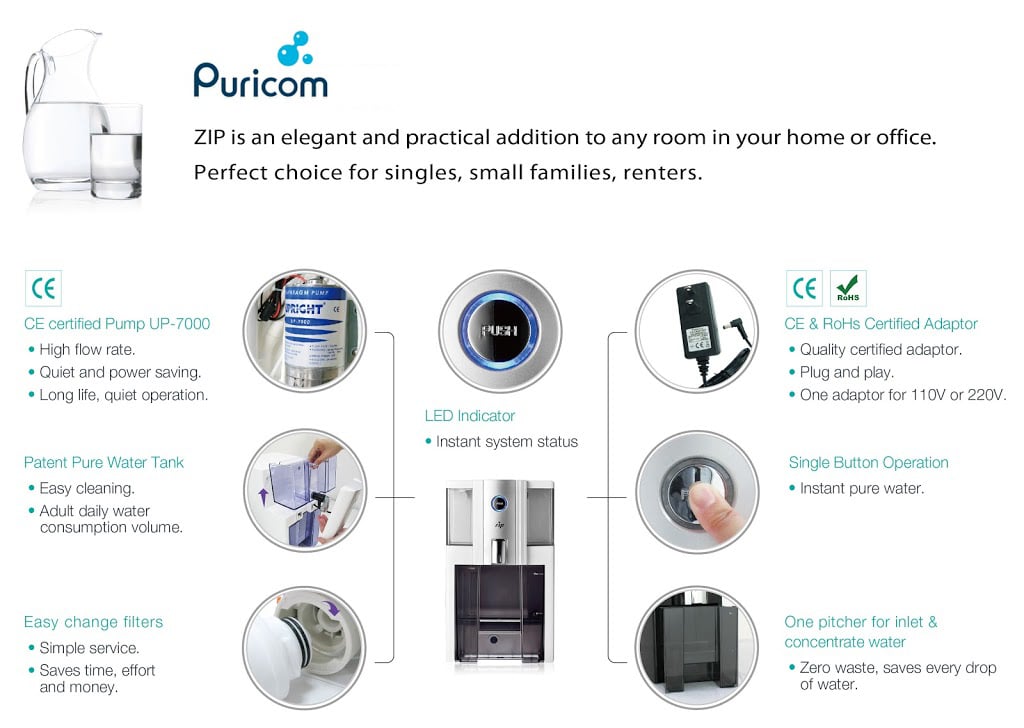 How does it work?
Stage 1
Unique 5 micron gradient pore structure, with outer section trapping larger particles and an inner section for smaller particles. It effectively removes dirt, rust and etc.
Stage 2
Activated carbon block filter removes harmful chemicals and carcinogens such as THM's and pesticides. Large adsorption capability can effectively remove odours and VOC's.
Stage 3
The RO membrane removes all the contaminants from the water including bacteria, viruses and other fine impurities which other filters cannot remove.
Stage 4
Inline post alkaline filter polishes the water adding beneficial Calcium and Magnesium for an improved taste.
Specifications
NSF certified components
6L Capacity: 4L of tap water + 2L of filtered water
100% BPA free plastic
Modern and Sleek Design
Upgraded interface, one touch for all functions
Max. salinity 800ppm
Dimensions:  415 x 250 x 380 mm (H x W x D)
Weight: 33 lbs (15 Kg)
Tanks can be unassembled easily in order to be washed properly