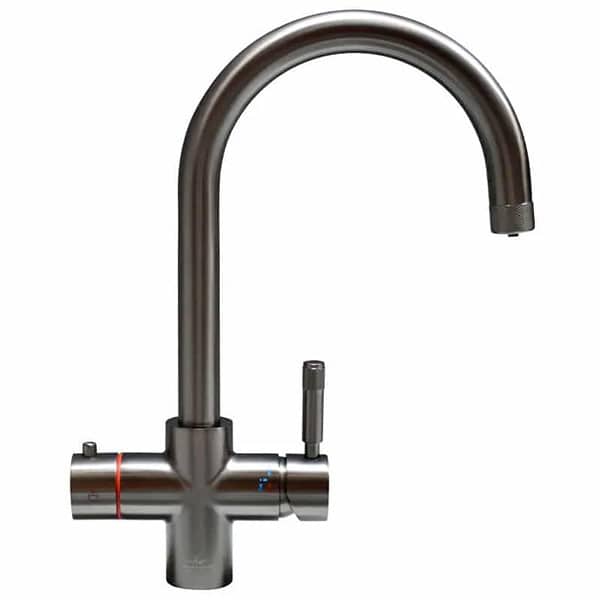 The Kelen & Willian 4 in 1 Boiling Tap has everything you want from a kitchen tap. Make a style statement in your kitchen with the modern look & versatility of our K&W 4 in 1 Boiling Water Taps.
There is no more waiting around for the kettle to boil and no more realising there's not enough water in the kettle. You can fill your cup or pan directly from the tap saving you sufficient time.
4-in-1 functionality offers instant boiling water as well as mains cold, mains hot and filtered cold for the best possible tasting drinking water time and time again. Offering unbeatable convenience when it comes to cooking and cleaning, these taps are the modern innovation your kitchen has been waiting for.
Whether you're cooking your favourite pasta dish, mopping your kitchen floors or drinking pure water, having instant access to hot, cold, filtered and boiling water at the turn of a handle will transform the way you cook, clean and drink at home. And, thanks to the built-in child-safe spring lock, you can have peace of mind that your little ones can't access boiling water unsupervised.
Transform How Your Kitchen Functions
From your morning cup of coffee to evening meals with family, transforming the way your kitchen functions is easy with a K&W 4-in-1 boiling tap. Our state-of-the-art kitchen taps arrive with everything you need to get up and running, including a compact, 2.4-litre boiler which fits neatly under your kitchen sink. Thanks to its compact design, the supplied boiler tank can easily fit into kitchen cupboards while still holding up to 7 cups of instant boiling water.
The boiler also boasts a digital touchscreen that allows you to adjust the temperature to between 75°C and 98°C, meaning you can get your instant hot water exactly how you like it.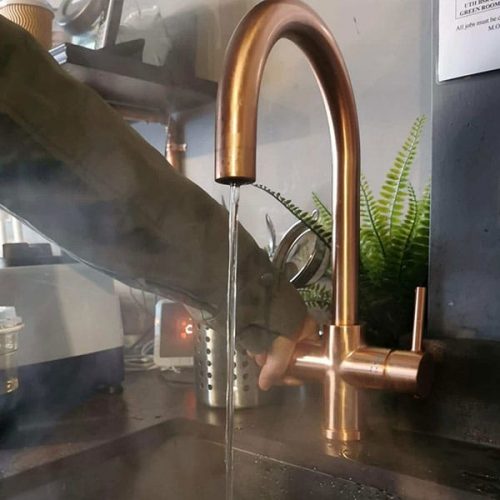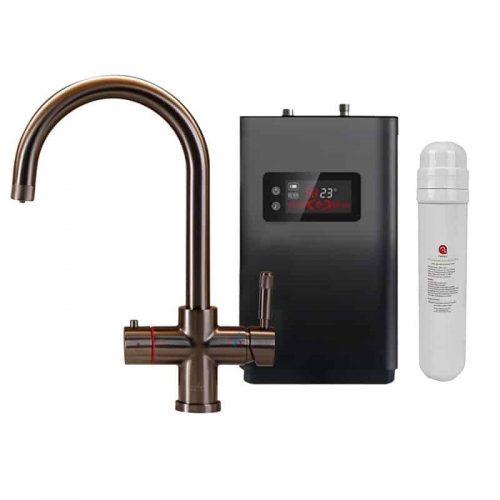 Filtered Water for Your Whole Family
Enjoying great-tasting drinking water and hot beverages cannot be easier than this. K&W 4 in 1 tap comes with a dual action carbon filter that delivers fresh filtered water free from impurities such as chlorine and other chemicals which impact the taste of tap water
So not only will you enjoy drinking water free from unpleasant smells and impurities, you will save a lot of money on bottled water and positively contribute to the environment.
The dual action filter reduces the limescale deposits on the heating element of the boiler tank to improve its efficiency and longevity.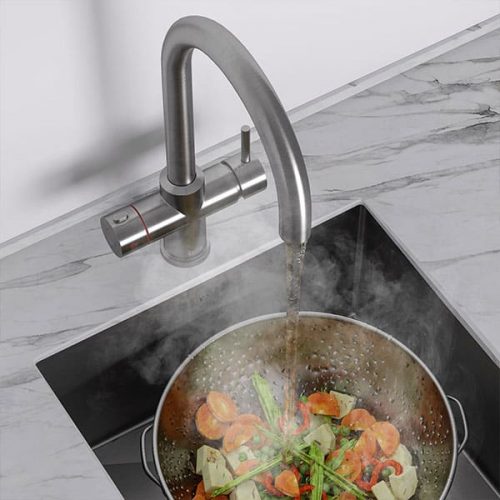 Key Features

Technical Specifications
Elegant Design to Suit any Kitchen
Modern & beautifully crafted design to  complement any modern kitchen. Offering eye catching details with the addition of an etched diamond design on the spout and tap finger grip. 
Clear Clutter on Countertops
Achieve a modern kitchen by clearing your countertops and eliminating the need for kettles or water jugs; this reliable, convenient tap is a solution for all of your hydration needs.
Built with safety in mind; this tap has a child-safe spring lock for boiling water dispensing. The splutter-free spout is designed to remain insulated from the inner flow of boiling water.
A variety of finishes available
We know how important it is for a stylish hydration solution to seamlessly blend with your workspace. That's why we offer a variety of incredible finishes and models to suit any space; whether it is for a modern or traditional kitchen. If you'd like to hear about our range of products, or perhaps would like assistance in finding the perfect tap for your specification, please get in touch with our friendly team of experts.
Water functions
Boiling, Mains Hot, Mains Cold, Filtered Cold
Unit dimension (H x W x D)
360mm x 168mm x 200mm
Product weight
2.3kg
Rated Input (kw)
1.5 kW @ 230V
Rated Voltage
220 - 240 W
Power supply requirements
1 x 13amp socket outlet
Style
Swan Neck
Finish
Chrome, Matte Black, Brushed Gold, Gunmetal Grey
Installation hole cute size
35mm
Rotation
180° Swivel Spout
Boiler dimensions (W x D x H)
210mm x 210mm x 327mm
Factory temperature boiling
75°C - 98°C
Boiler capacity
2.4L
Unlike other boiling taps on the market, we can professionally install the tap for you.
Customize your boiling tap with a water softener or a reverse osmosis system to improve the overall quality of drinking water. No matter what your request be, we're here to help you.
Need more information or are you looking to get a quote? Fill out this short  form and we'll contact you with a tailored product advice.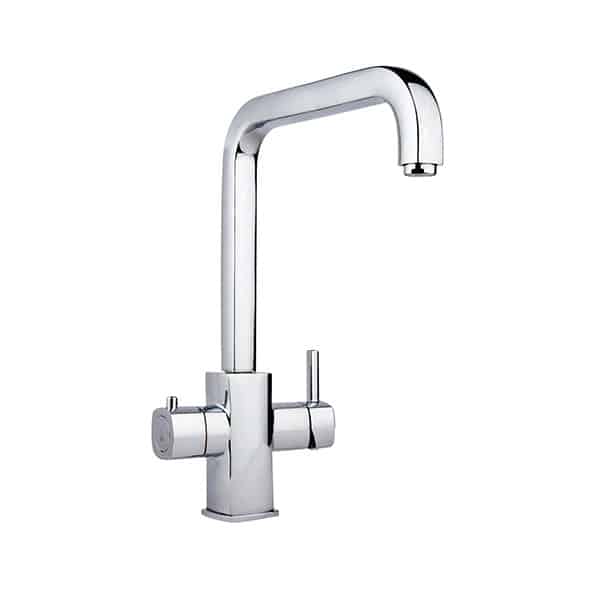 Culligan Rosemount Boiling Tap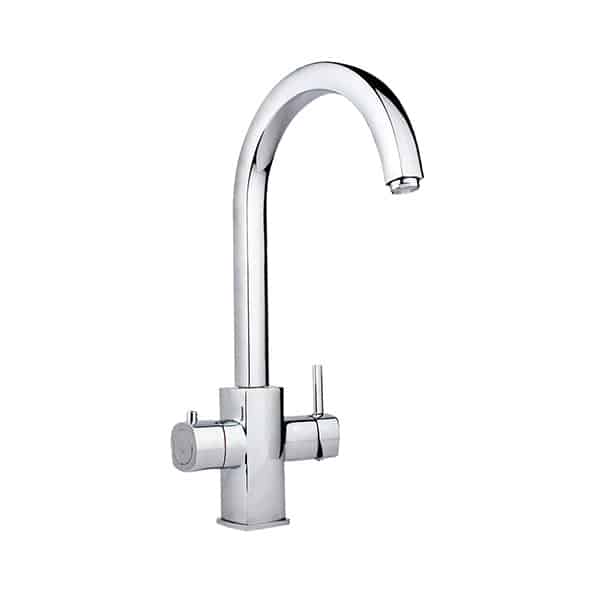 Culligan Milano Boiling Tap