Hand Washing Test Kits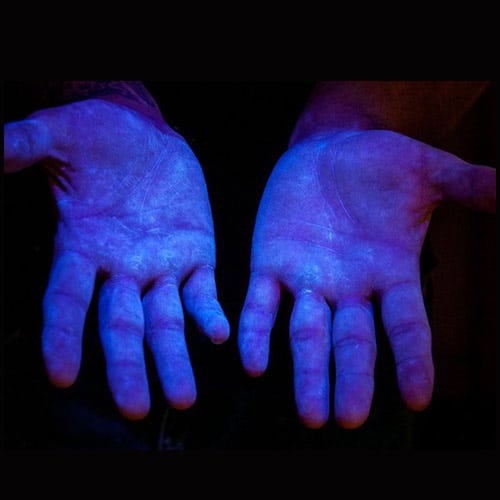 A number of infectious diseases can be spread from one person to another by contaminated hands. These diseases include gastrointestinal infections, such as salmonellosis, and respiratory infections, such as influenza, colds and coronavirus (COVID-19).
Hand hygiene is one of the best ways to prevent the spread of infection. In infectious disease outbreaks, hand hygiene compliance becomes even more urgent to keep health workers, patients, and communities safe and contain the spread of disease.
The Hand Washing Test Kit is a training kit for teaching personnel the correct procedures for:
Hand cleansing
Prevention of cross-infection & environmental contamination
Surface cleaning
Aseptic techniques
Reduce the incidence of HCAIs and their financial impact on your organization. We supply HSE, local authorities, infection control specialists and schools with an unrivalled range of hand hygiene training products.




Our Range of Products
Hand Inspection Cabinets
The Hand Inspection Cabinet is designed primarily as a training aid to enable the implementation of good hygiene practices, specifically in the area of hand-washing techniques. It uses long-wave UV light in a shrouded cabinet to exclude the bulk of background light. This product enables infection control officers or training establishments to demonstrate correct hand washing/scrubbing techniques.
It will instantly highlight any defects and raise awareness of potential hygiene problems. The Hand Inspection Cabinet demonstrates the importance of hands being washed often and well, requiring the right technique and friction to reduce the risks of user infections and cross-contamination.
GlitterBug Potion Pump Bottle
Teach good hand-washing techniques magically! The potion is formulated from a UV fluorescent powder mixed in a special hand lotion. The pump dispenses just the right amount to cover a pair of hands, decreasing waste.
Over 200 applications per 240ml bottle. Now available in the new 50ml bottle which has a convenient eyelet for hanging. The Glitterbug lotion is rubbed into your hands and when placed under a UV lamp any areas not washed properly will show up.
GlitterBug Fluorescent Powder
Dust the powder on a sheet of paper and hand it around the room. A check with the UV lamp and you can demonstrate how easily powder (or germs) can be spread from person to person.
Alternatively spread the powder on a work surface and ask someone to clean it. Again the UV light will show up any areas that have been missed.
GlitterBug Dangler Kit
This fun little kit dangles on a stylish and convenient neck-strap with everything you need. The bottle of GlitterBug Potion and the Keychain LED Lamp can be detached at the plastic clip for separate use. Dangler has an adjustable locking slider printed with the GlitterBug face and an easy to use behind-the-neck snap-clasp.
Includes: SpotShooter Keychain, Neck-Strap with disconnect, GlitterBug Potion Bottle (50 ml), "I Was Rude" stickers (ST6), How To Wash poster (P132) and one Hand Brush.