FT Line 3 Water Filter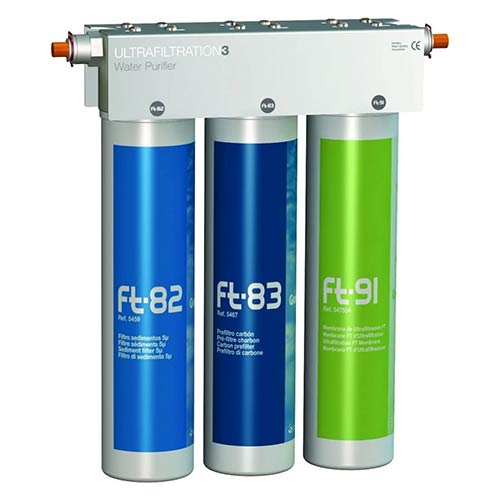 FT Line 3 Water Filter is a versatile, economic, and advanced domestic water filter system that can be installed under the kitchen sink without taking up much space. Filtered water from FT Line 3 can be used for cooking, drinking, and other household applications.
The main advantage of FT Line 3 is the ultrafiltration process which delivers exceptional quality drinking water free from common contaminants such as chlorine, organic compounds, sediments, rust, sand & more. If you are on a public water supply and fed up with the chemical-like taste in your water, FT Line 3 should definitely be in your kitchen.
Benefits of FT Line 3:
Removes sediments, chlorine, cysts, odour and much more
No storage tank required
Does not reject water
Space-saving design
Works smoothly even at low pressure
Multi-Stage Filtration
Stage 1 –  FT 82 is a 5-micron polypropylene filter that reduces sediments, rust and other large particles.
Stage 2 – FT 83 is an activated carbon filter that neutralizes the taste and unpleasant odours by reducing chlorine and other chlorine compounds from water.
Stage 3 – FT 91 is an ultra-filtration membrane that removes contaminants with size up to 0.1 µm. This powerful ultra filter significantly improves the quality of drinking water.
Specifications
Fittings – Automatic John Guest
Pressure – Minimum 0.5 bar / Maximum 4 bar
Weight – 3.5 kg
Maintenance – Replacing cartridges every 10,000 liters or 1 per year
Maximum temperature  – 2°C (35°F) / 38°C (100°F)
Accessories – Valve / Fittings / Tube / Faucet / Wall bracket
Cartridge Ft Line 82 – 8.6 bar max. / 3.7 L minute / Service life 11,340L 1 year
Cartridge Ft Line 83 – 8.6 bar max. / 1.9 L minute / Service life 7,560L 1 year
Cartridge Ft Line 91 – 4 bar max. / 1.5L minute / Service life depending on water characteristics