Freestanding Drinking Fountains
Drinking water fountains from Celtic Water Solutions offer low maintenance and reliable solution where chilled drinking water is required in commercial buildings. Designed to be robust and vandal resistant, the drinking fountains are suitable for external use in areas such as playgrounds, sports centres, and golf clubs amongst many other applications.
They can be connected directly to the mains water supply and deliver an unlimited amount of chilled water which always has a fresh taste. The products are made from durable coated steel panels and have an easy to open front pane for installation and maintenance.
Ideal for supply chilled drinking water in schools, colleges, factories, shopping centres, airports and other busy public places.


Oasis PLF10CPY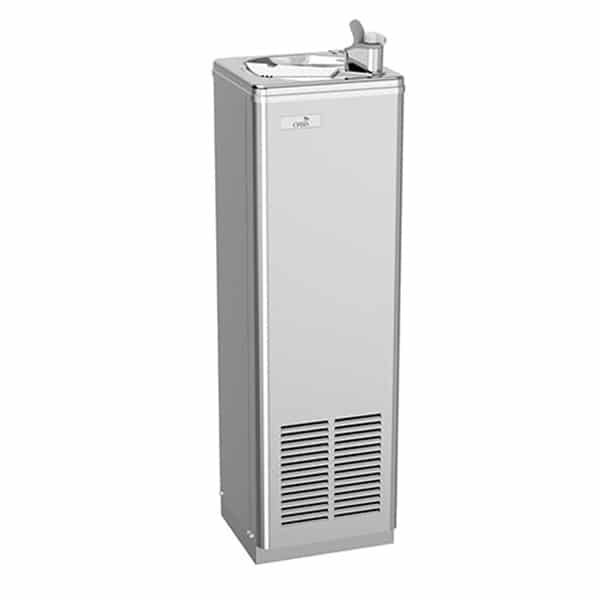 Compact, attractive and economical. The Oasis PLF10CPY is ideal for placement in smaller locations looking to save space. This attractive and compact machine takes up only a square foot in floor space while providing a high capacity of chilled drinking water, suited to an environment with frequent usage.
The solid steel base ensures its rigidity and stability, while the wrap-around style cabinet allows for a removable panel at the front to accommodate any maintenance requirements. The Oasis PLF10CPY is supplied with a bubbler valve only, however, a glass filler can be fitted at an additional cost if required. Available in a Sandstone clad finish or a Stainless Steel finish at an additional cost.
Key Features
Supplied with a Bubbler valve only, with optional glass filler at an extra cost
Removable front panel for easy service and maintenance
All waterways are lead-free
Heavy gauge steel cabinet with separate base
Bubbler valve ensures for easy hydration on the go
High capacity cooling tank
Oasis PLF14FAY

The Oasis PLF14FAY is the ideal high-capacity yet compact drinking water fountain. Small but powerful, this machine is perfect for smaller spaces with high levels of traffic due to its small footprint and impressive cooling capacity of 106 litres per hour.
This fountain was designed to last and stands strong in demanding environments, providing copious amounts of thirst-quenching, chilled water around the clock. A long-established model, suitable for high volume use in factories, workplaces and gyms. Straightforward, compact and powerful. The cabinet is available in a stainless steel finish.
Key Features
Dispenses 106 litres of chilled water per hour
Refrigerated water fountain with a high cooling capacity
Oasis Dial-a-Drink twist Bubbler with a flexible guard to prevent accidental mouth injuries
Glass filler can be fitted at additional cost if required
Heavy gauge steel cabinet with separate base
Robustly built to withstand frequent use
One-piece basin with a polished stainless steel top makes it easy to keep clean
Non-pressurised tank cooling system