Ecosoft P'URE AquaCalcium Reverse Osmosis System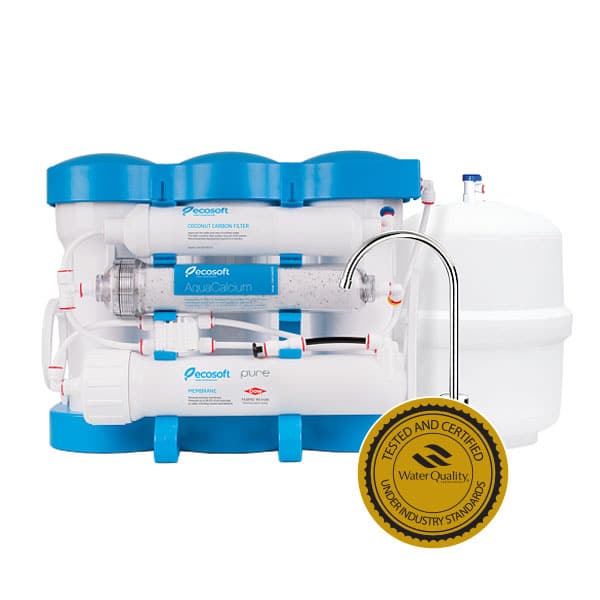 Drinking healthy and tasty water doesn't get easier than this. Ecosoft P'URE AquaCalcium is the perfect solution to clean drinking water straight from your kitchen tap and ensures 100% safety from cryptosporidium & viruses. As the membrane only allows water molecules to pass through, bacteria don't even have the slightest chance to contaminate your drinking water.
The highlight of this reverse osmosis system is the AquaCalcium mineral filter that adds back calcium to the water. Calcium is vital to the health of humans in all age groups. Calcium-enriched water is ideal for people with an active lifestyle, as well as those at risk of inadequate nutrition.
Benefits of Ecosoft P'URE AquaCalcium RO:
6 stages of water filtration including mineralization
Removes chlorine, fluoride and bad taste
Eliminates cysts like cryptosporidium
Filters out lead, arsenic, pesticides, nitrates, sulphates, detergents and 99.9% of known contaminants of water
Adds back calcium for health benefits
Compact design
Both vertical and horizontal mounting is possible
Stage 1
Polypropylene sediment pre-filter removes large (more than 5-microns) particles of mechanical impurities (silt, sand, rust, scale).
Stage 2
Granular Activated Carbon (GAC) coconut shell filter neutralizes chlorine, organic and organochlorine compounds (pesticides, dioxides, etc.). As a result, the taste, colour and odour of water are improved.
Stage 3
10-micron carbon block filter removes chlorine, organochlorine and other organic matter.
Stage 4
The 4th stage is the semi-permeable membrane which at the molecular level removes everything from the water including cryptosporidium and viruses.
Stage 5
The purified water from the RO membrane then passes through the AquaCalcium filter for 1st stage of remineralization. Special technology of the filter replicates the slow flowing of water passing through the mountain rocks. The water is then stored in the pressure tank.
Stage 6
The water from the pressure tank passes through the AquaCalcium filter once again and then enters the final stage of the filtration process. The last filter is coconut shell activated carbon which corrects the taste and smell of purified water.
This system can be installed under your kitchen sink which makes it an ideal choice for most homes. The Ecosoft P'URE AquaCalcium is designed for use on all chlorinated and non-chlorinated potable water supplies.