Ecosoft P'URE Alkafuse Reverse Osmosis System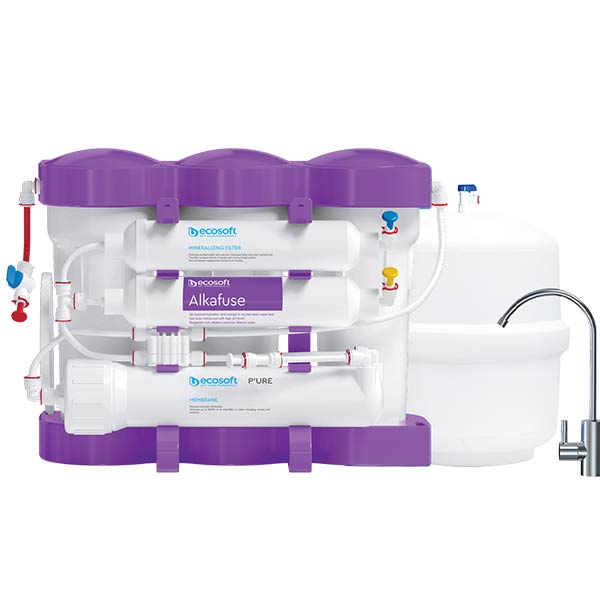 Pure drinking water means no unpleasant taste and odour, just great tasting water for you and your family – simply at the turn of a tap. Ecosoft P'URE Alkafuse has been designed to complement any home and lifestyle and sits neatly concealed under the sink leaving your kitchen free from clutter.
It purifies water at the molecular level, effectively removing contaminants such as chlorine, fluoride, heavy metals, viruses, organic compounds, chemicals, sediment, and much more.
A feature unique to this RO system is the Alkafuse Remineralizer filter which raises the pH of the water to alkaline levels (>8.5). It's important for you to drink alkaline water to fortify your health, boost your immunity and keep various chronic diseases at bay. The anti-oxidizing agents in alkaline water play an important role in neutralizing free radicals in your body that help you stay healthy.
The remineralizing filter introduces minerals such as calcium and magnesium back into the water, making up for those that have been removed during the thorough RO filtration process.
Benefits of Ecosoft P'URE Alkafuse RO:
6 stages of water filtration including mineralization
Removes chlorine, fluoride and other chemicals
Eliminates cysts like cryptosporidium
Filters out lead, arsenic, pesticides, nitrates, sulphates, detergents and 99.9% of known contaminants of water
Enhances taste of water
Adds trace minerals such as calcium & magnesium back into the water
Improves metabolism, increases energy, and slows down the ageing process
Both vertical or horizontal mounting is possible
Stage 1
Polypropylene sediment pre-filter removes large (more than 5-microns) particles of mechanical impurities (silt, sand, rust, scale).
Stage 2
Granular Activated Carbon (GAC) coconut shell filter neutralises chlorine, organic and organochlorine compounds (pesticides, dioxides, etc.) As a result, the taste, colour and odour of water are improved.
Stage 3
10-micron carbon block filter removes chlorine, organochlorine and other organic matter.
Stage 4
The 4th stage is the semi-permeable membrane which at the molecular level removes everything from the water including cryptosporidium and viruses.
Stage 5
Alkafuse Remineralizer filter raises the pH of the filtered water to nearly 8.5
Stage 6
Remineralizer filter enriches purified water with minerals such as calcium and magnesium.
This system can be installed under your kitchen sink which makes it an ideal choice for most homes. The Ecosoft P'URE Alkafuse is designed for use on all chlorinated and non-chlorinated potable water supplies.
Looking to get it installed at your home?