Ecosoft 3 Stage Water Filter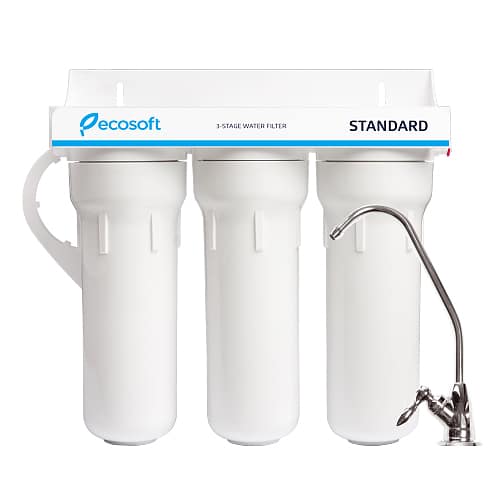 The Ecosoft 3 Stage Water Filter is a compact water purifier that uses 3 stage purification process to give you drinking water. Water purified using Ecosoft Standard filter can be used for drinking, cooking, watering flowers, as well as for vaporisation in household appliances (iron, steam boiler, air humidifier). Purified water does not lead to scale formation.
This filter is effective in the removal of chlorine, lime and other contaminants present in the water. The filter includes an assembly of three water treatment modules connected in series, compactly mounted under the kitchen sink. To supply clean water, a separate valve crane mounted on a countertop is provided.
The system is specially designed for cleaning the earth water supplied from the city water supply.
Stage 1: Polypropylene foam removes calcium which forms deposits and total dissolved solids (partially).
Stage 2: Ecomix filter material removes iron, chlorine, harmful organic and organochlorine substances, metals, phenols and petroleum products.
Stage 3: Activated coconut carbon cartridge removes organochlorines, bad taste and smell.
This filter is ideal for installation in homes with mains water supply. This filter is not suitable for homes with high water hardness or if the source of water is private well/lake. Under such circumstances, you need to install a specialized water treatment system based on your water test results.


Benefits
• Low Price of the water filtration unit
• Low maintenance costs
• 3 steps for purification of running water
• Water softening and chlorine removal
• Filtration rate 1 litre per minute
• Easy installation and replacement of cartridges
• Compact filter dimensions