Culligan So Clear Water Filter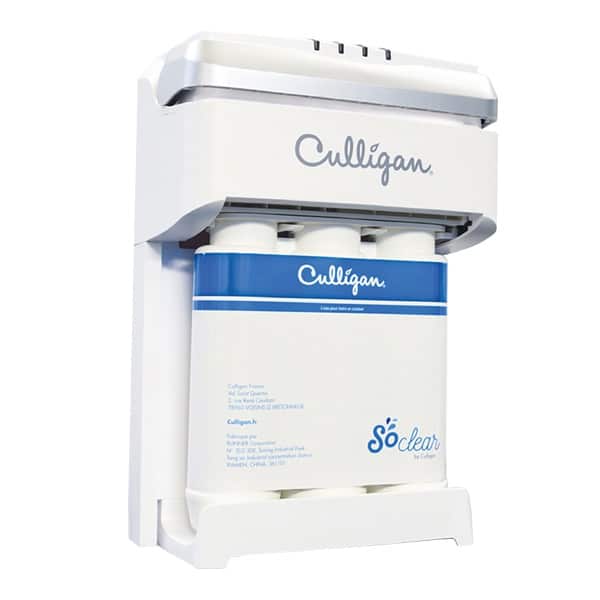 The Culligan So Clear Water Filter System is simple to use, technologically advanced and super-compact, bringing you better-tasting water, purified of unpleasant tastes and odours, directly from your kitchen tap.
Suitable for most kitchen layouts and, thanks to its compact size, can be installed in small spaces and functions even without electricity.
With triple-filtration technology, Culligan So Clear removes contaminants such as chlorine, organic compounds, turbidity, residues and suspended particles. Filtered water from Culligan So Clear can be used for cooking, drinking, and other household applications.
The Culligan So Clear utilizes a 3-in-1 cassette-style filter which allows 3 stages of filtration to be changed in one easy step and is also equipped with a floor leak sensor and alarm in the unlikely event of a water leak to prevent water damage.
And finally, you can free yourself once and for all from the stress of transporting heavy packs of bottled water while at the same time also reducing both the consumption of plastic and the quantity of CO2 released into the environment.
Benefits of Culligan So Clear Water Filter:
Ultrafiltration technology
Removes sediments, chlorine, odour and much more
No storage tank required
Does not reject water
Space-saving design
Multi Stage Filtration Process
Stage 1
Sediment filter eliminates unwanted elements, such as sand, dust, suspended particles, leaving the water clearer.
Stage 2
Carbon Block filter is designed to solve common problems of water quality, by eliminating all traces of impurities and turbidity, as well as unpleasant odours and tastes caused by the presence of chlorine.
Stage 3
Ultrafiltration eliminates viruses and bacteria from the water, without changing its taste or eliminating its mineral salts.
Specifications
Position: Under-sink mounted
Chloride Elimination: Carbon Block pre-filtration kit
Disinfection System: Ultrafiltration
Net Weight (max): 3 Kg
Flow Rate: 2.8 Litres/minute
Dimensions ( W x D x H ): 270 x 120 x 370 mm
Filter life: 21,000 Litres