Culligan Floor Standing Mains Fed Water Cooler
An elegant combination of style & functionality, Culligan Floor Standing Mains Fed Water Coolers offers modern hydration option supplying high quality water all day long. This water dispenser can produce up to 240 cups of chilled drinking water per hour thanks to Direct Chill technology, making it an ideal machine for high usage areas.
The sealed cooling system also provides a sanitary environment and reduces cleaning frequency. As the water enters from mains, it passes into a pressure vessel where it gets chilled and move towards point of dispense. Water is not stored anywhere, therefore, it reduces the risk of contamination.
The on-trend black colour perfectly blends with any office environment which makes it suitable for use in any office, kitchen, canteen or factory.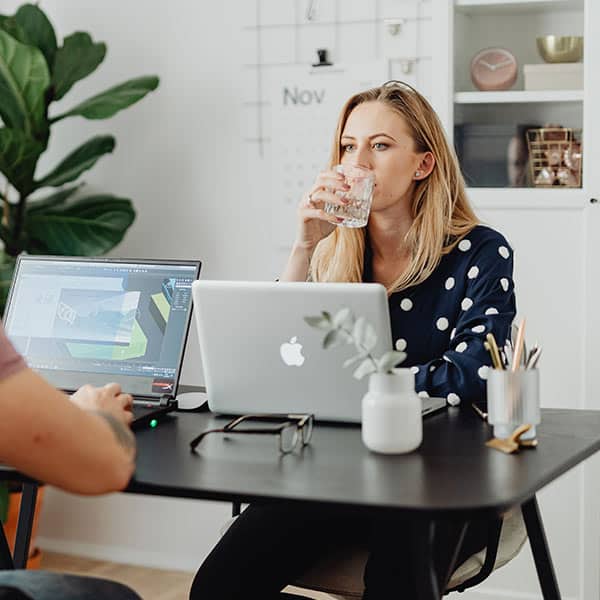 Key Features

Technical Specifications
The spacious water dispensing area allows for bottles and carafes to sit beneath the dispenser with ease and stability. Removable self-draining drip tray for your convenience, dishwasher safe.
Soft touch buttons with indicator lights are easy to use and conveniently positioned at the top front of the machine. Push and hold the button and watch your glass fill with ease.
Modern, robust, and stylish addition to any office environment. No longer you'll have to put up with a tired looking water cooler in the corner of the room.
This water cooler is built for ease of use and instant hydration; including a large alcove for refilling sports bottles & carafes, an integrated cup dispenser for disposable paper and plastic cups, a safety lock hot button to prevent any accidents, and optional Mechanical Autodrain or factory installed green filter system. For a touch-free experience, we also supply a Contactless model – get in touch for more information.
Water options
Hot and cold or Ambient and cold
Dimensions
320W x 380D x 1120H mm
Weight
Ambient and cold 23.5kg
Hot and cold 24.7kg
Power requirement
50 Hz/ 220-240 V
Maximum power consumption
Ambient and cold 100W
Hot and cold 620W
Temperature
Chilled 2-10°C
Hot 92°C
Litres per hour
Chilled 20L
Hot 8L
Alcove height
220mm
Need more information or are you looking to get a quote? Contact our team of experts now.