Stop using bottled water & start saving
Whether you're at the office, showroom or shop, easy access to filtered drinking water is always appreciated. Thanks to mains-fed water dispensers, you can have pure, great-tasting drinking water directly from the tap at just the touch of a button.
Our countertop mains-fed water coolers are compact water dispensers, designed to sit on a kitchen counter or any other raised area. Small but powerful, they are the ultimate space-saving hydration solution.
Stylish and economical, our range of countertop water coolers is ideal for all premises with moderate water consumption – from your kitchen at home to an office with up to 20 people.
Not only do you get that endless supply of water you are looking for, but also a solution that won't take up your much-needed floor space.
With a compact design and installation possibilities as a countertop or free-standing unit, a suitable place can always be found for installation.
Benefits of Countertop Coolers
Using our countertop water dispensers equipped with the latest filtration technology, you can turn tap water into a delightful experience. And there's no tedious bottle carrying, no storage issues in the fridge or pantry, and, best of all: no environ­mental pollution caused by empty single-use plastic bottles.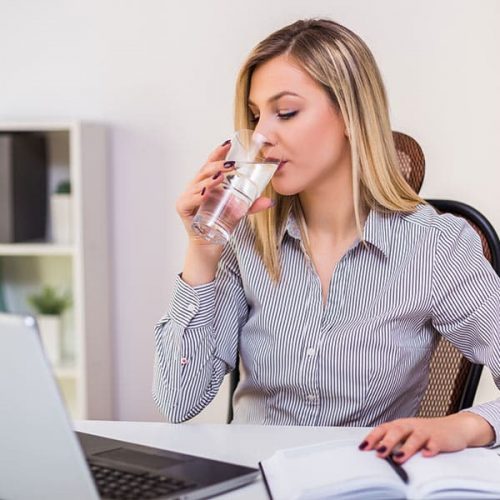 We're dedicated in our efforts to develop advanced purification technologies that are environmentally friendly and easily sustainable. With a mains-fed water cooler, you can drastically reduce your business' plastic waste, environmental pollution and carbon emissions.
Our extensive range caters to all business needs, no matter your budget. Find the right cooler for your office, or contact us directly for expert advice.
Why Choose Celtic Water Solutions?
Celtic Water Solutions is your one-stop shop for all your water filtration needs. We are Ireland's leading water cooler supplier with over 10,000 units installed all over the country.
As a market leader in the hydration industry, we have worked with top brands including IBM, PepsiCo, Diageo, and HSE among many more.
Our best-in-class range of products allows us to cater to all customers. Starting at mains fed water coolers, right up to water fountains and bottle filling stations capable of high-capacity output.
We also offer a maintenance program which includes maintenance, cleaning, and filter changes on a regular basis. Our fully managed program will bring peace of mind to you, your employees, and your customers.