Safety is paramount in any kitchen. And the concept of a tap dispensing boiling water can seem alarming at first – especially if there are children about.
But boiling water taps are not only innovative but exceptionally safe when compared to electric or stove-top kettles. Boiling tap manufacturers have incorporated patented safety controls to prevent these taps from accidentally being switched on and used by children.
Here are some facts about boiling water taps that will help put your mind at ease.
Why Can Kettles Be Dangerous?
Before discussing the safety features of boiling water taps, let us first understand why kettles can be potentially dangerous.
In the UK, 112,000 people visit Accident and Emergency units each year suffering from the effects of burns or scalds incurred in the home or leisure activities.
However, preschool children (under 5 years of age) are at greatest risk, accounting for 75% of all severe child injuries – 3,500 (almost 10 a day) – requiring admission to A&E departments or specialist burns units, many of whom require extensive plastic surgery, sometimes throughout their entire lives.
Where known, nearly 50% of the severe burns/scalds injuries to children under 5 years of age happen in the kitchen. The most common items involved in these accidents are cups/mugs of hot drinks, kettles, teapots/coffeepots, saucepans, cookers and chip pans/deep fryers.
Kettles are involved in over 570 severe injuries a year and most involve the child grabbing the kettle and/or a trailing flex and pulling the contents of a kettle of boiling water onto themselves. Many suffer extensive burns to their head, shoulders, arms and upper body.
As per a study published in the Irish Medical Journal, a child's skin is estimated to burn in a quarter of the time needed for an adult. Children exposed to water at 60°C for 5 seconds will sustain a full-thickness burn.
Handling a heavy kettle can also be difficult and dangerous for older people making them highly vulnerable to scalding accidents.
Safety Features of Boiling Water Taps
Instant boiling water taps are safer than you think. Our boiling taps include several safety features making them a safe choice.
1.    Cool touch
In most kitchens, worksurfaces are narrow and often cluttered with appliances, meaning that little hands can easily reach up and touch a freshly boiled kettle. Culligan boiling taps are fitted with a cool touch spout to prevent burnt fingers; the safe touch spout even stays cool when using the boiling water function.
2.    Safety functions
Homeowners with young children are also concerned about inquisitive hands accidentally turning on the boiling water function of a multi-functional tap. To release the steaming hot water, first, you need to press down the safety catch, which is not easy for tiny hands to do. Then, you twist the handle and keep it held while you fill your mug or pot.
If the button isn't pushed down, or if you release the handle, no hot water comes out. This is called a "double spring-loaded" design
As soon as the handle is released, it'll spring back to the "off" position and the hot water will instantly stop.
This means you can't accidentally leave the steaming water running like you can with a 'normal' tap.
3.    Pressure
Although a minimum pressure of 1.5 bar is required for the instant boiling water tap installation, the boiling water setting flows at a lower pressure than you might expect. This is to prevent the water from spitting and splashing, again keeping you safe.
As boiling water is stored in the hidden tank rather than the tap, this means that after use any remaining water will return to the tank, not exit through the spout.
4.    Adjustable water temperature
The temperature of hot water can also be adjusted all the way down to 75°C, just in case things become too hot. Use the variable temperature settings to select any of these 5 temperatures: 75°C, 85°C, 90°C, 95°C, and 98°C.
The left-hand temperature will show the current temperature of the water The right-hand temperature will show the selected temperature.
Why Choose Culligan Boiling Taps?
Quooker & Grohe use a pressurised system that allows storing the water at a higher temperature and usually deliver it at a higher pressure, however, there are drawbacks. If the pressure release valve gets blocked or obstructed, the tank can explode.
On the other hand, Culligan boiling taps use an open-vented technology to store water at a slightly lower temperature than that in a pressurised system, but this means that they can meet the WRAS approval guidelines. It is also easy to attach a filtration system on non-pressurised systems which not only gives you purer hot water but also seriously reduce limescale.
Culligan boiling taps come complete with a boiler unit and filter delivering up to 2.4 litres of piping hot water – more than enough for an average family home.
Choose from the various options to select the best one for your home or business.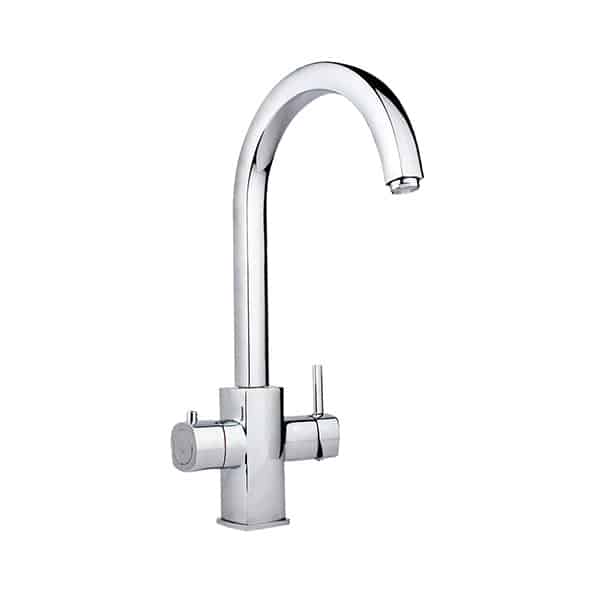 Culligan Milano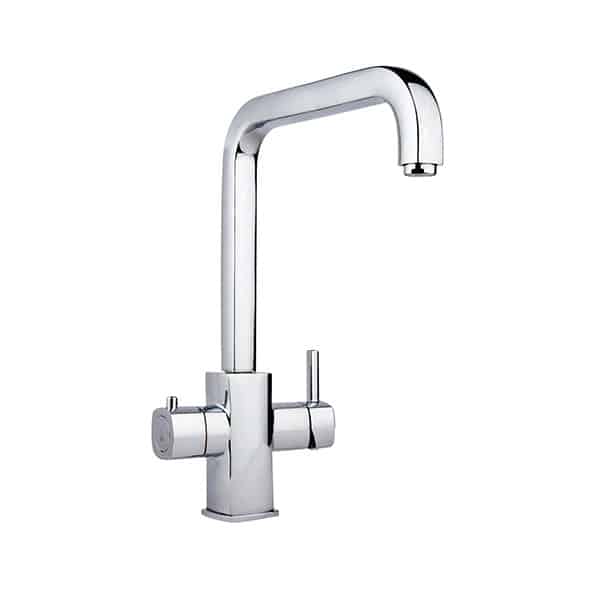 Culligan Rosemount